Mushroom Embroidery Patterns & Inspiration
Looking for some mushroom-related hand/machine embroidery inspo and patterns? Look no further!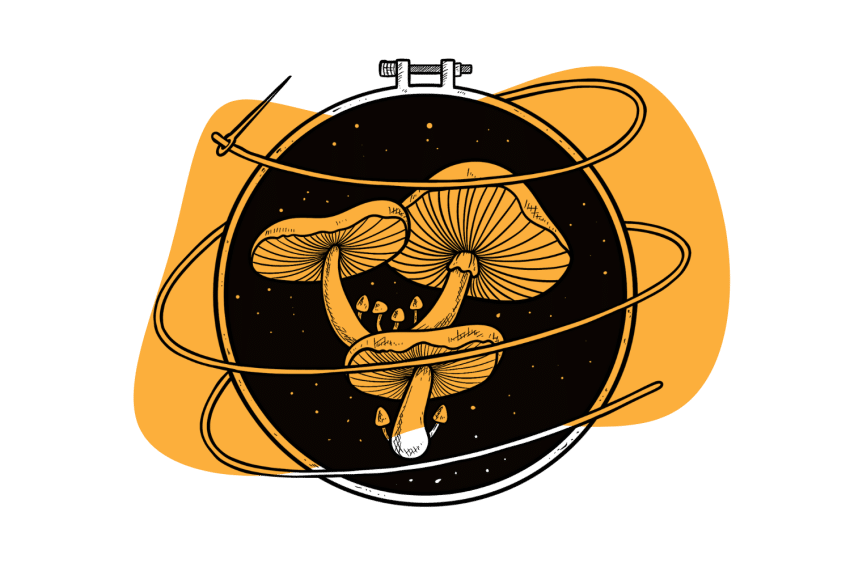 Whether you're an experienced embroiderer seeking inspiration or a mycology enthusiast looking to merge your love of fungi with art — mushroom embroidery offers it all.
We've summarized the best mushroom embroidery patterns we could find — complete with patterns and tips for embroidering magic mushrooms, edible mushrooms, the classic fly agaric mushroom, psychedelic embroidery, and more.
Magic Mushroom Embroidery Patterns
There are well over 200 individual species of psychedelic fungi. Most of these mushrooms can be classified as LBMs (little brown mushrooms). There are countless mushrooms that fit this description which makes proper identification very difficult.
So if you're looking for a pattern that contains a magic mushroom to use on your embroidery projects, you won't have a hard time finding something that will suffice.
All of the mushroom embroidery patterns listed below fit this description — depending on the level of detail, you could easily pass them as various species of Psilocybe spp. or Panaeolus spp. — many of these look the same on a basic level and require a much higher degree of detail than an embroidery pattern could deliver (how the gills are attached, texture, and spore coloration).
Purple Magic Mushrooms
This beautiful mushroom pattern by TalismanThreads looks an awful lot like Psilocybe cubensis mushrooms.
This is a simple design, suitable for people with at least some experience with embroidery. You can easily scale these digital designs up from a small (10×10 cm) patch all the way up to 20×20 cm or larger.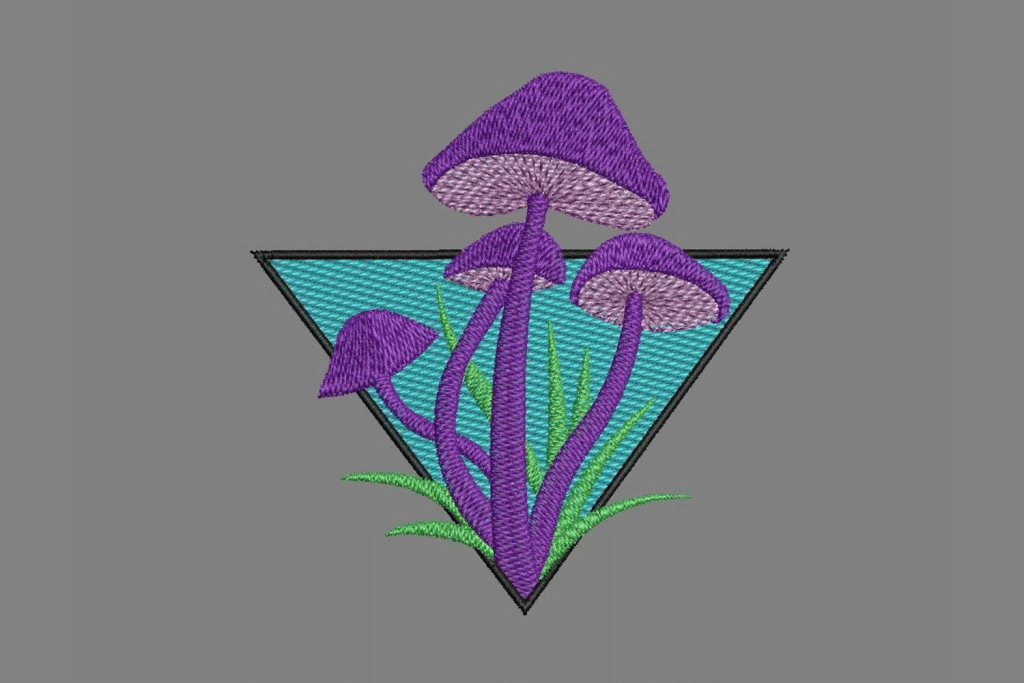 Classic Psilocybe Shrooms
This beautiful and simplistic mushroom pattern by FernAndFayeThreads doesn't specify the species, but it looks a lot like Psilocybe semilanceata to me. It could also be a type of Conocybe, but several of those are psychedelic too.
I love the texturing on these mushrooms, but the pattern requires some basic experience with embroidery. The shading and gradual transition of the threads for this piece are stunning.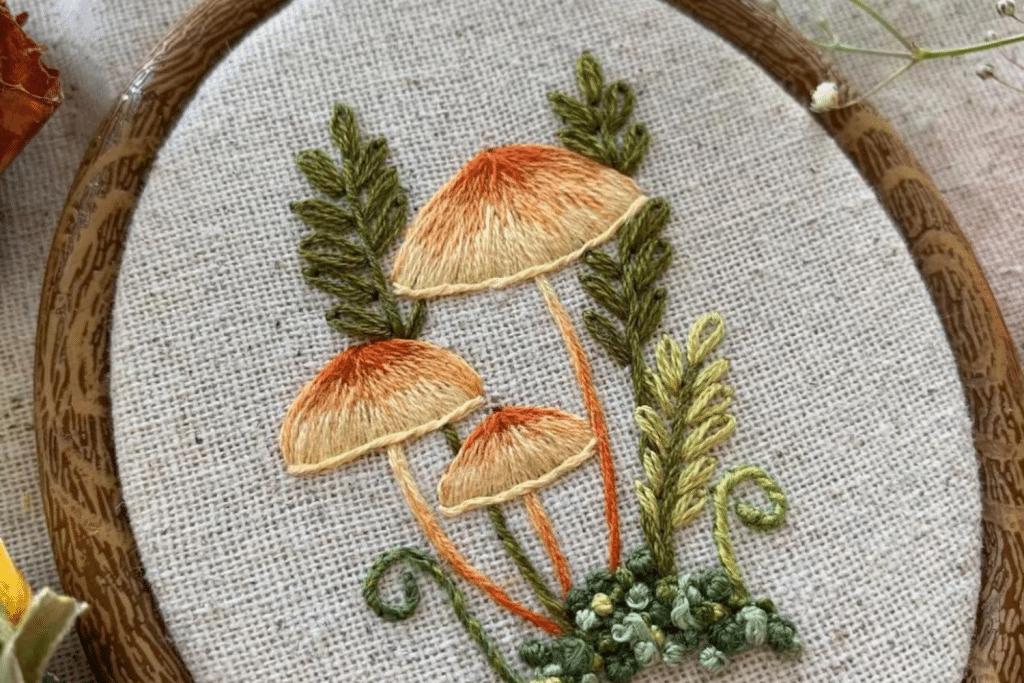 Psychedelic Mushrooms
This psychedelic-inspired mushroom pattern by MachineEmbroideryUA1 is designed for use on a dark backdrop to really make it pop.
This pattern is considered expert-level because it involves a great deal of effort and requires many different thread colors.
This digital file can be downloaded immediately and used with an embroidery machine.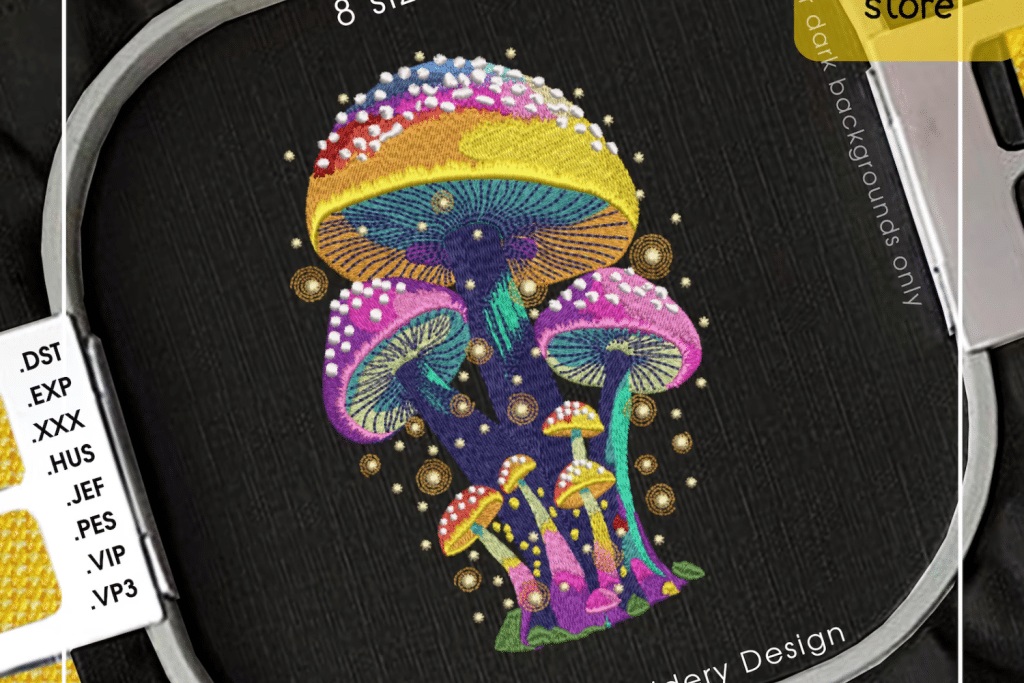 Trippy Mushroom
This colorful mushroom design by EmbroideryEZ is designed for machine embroidery and can be scaled up or down as needed. This design works on most background colors but truly pops on something dark.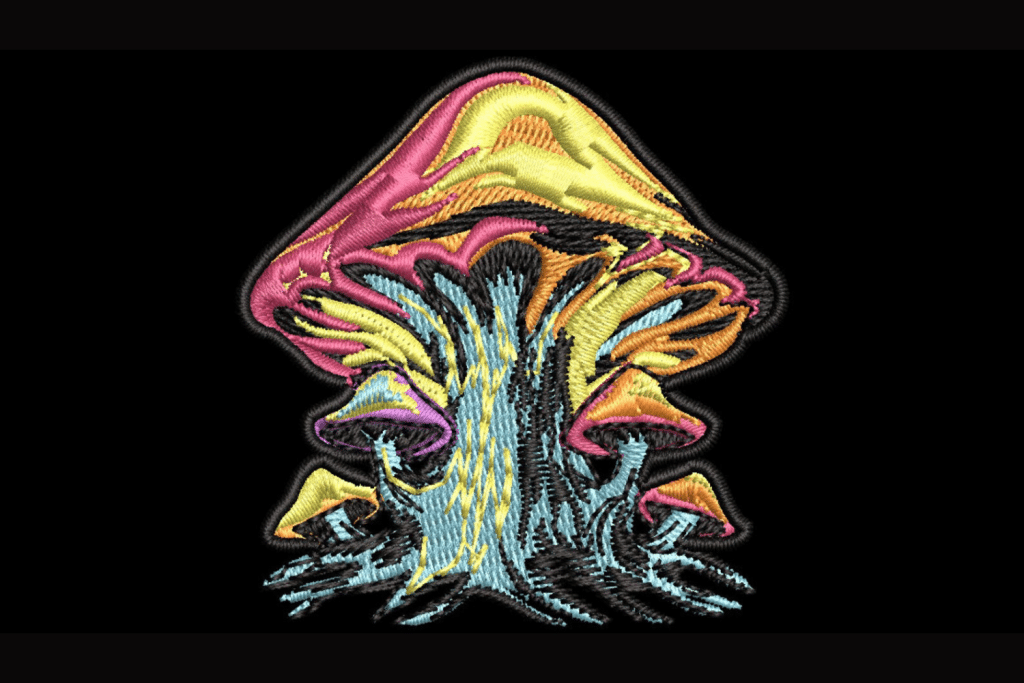 Amanita Muscaria Embroidery Patterns
The Amanita muscaria mushroom (AKA "Fly Agaric") is one of the most ubiquitous mushrooms on the planet.
This species is found in temperate forests all over the world, where it forms a symbiotic relationship with trees. This means the mushroom grows inside the roots of the tree, where it provides protection from bacteria and other fungi, transfers phosphorus from the soil to the tree, and buffers against drought. The tree provides protection and a consistent source of food in the form of sugar to the mushrooms.
Amanita is a mild psychedelic and oneirogen (dream-inducer) with a long history of use as both a medicine and shamanic tool. It's also simply beautiful and lends itself perfectly to the art of embroidery.
Simple Amanita
This simple amanita pattern by ShopJamiePhoto is a great option for people who like a more minimal design. This one is easy to do and only takes a few minutes to complete.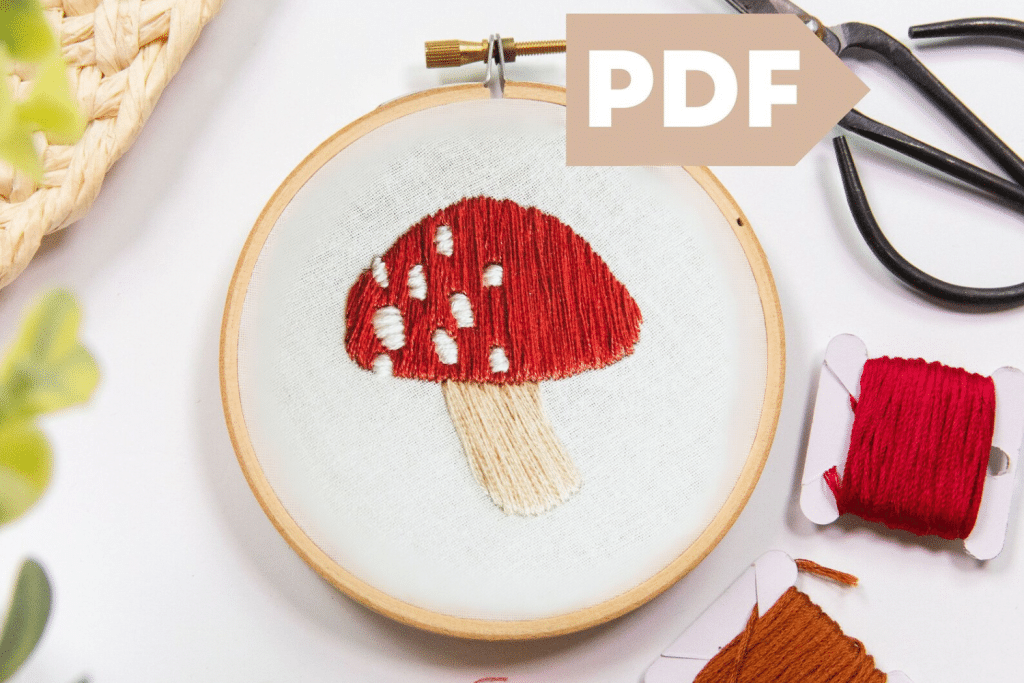 Detailed Amanita
This Amanita mushroom has a lot more detail than the simple pattern above. This pattern involves some shading and highlighting as well as a bunch of ferns and leaves to create a nice round shape — perfect for larger pieces or patches.
This piece is sold on Etsy by EmillieFerris.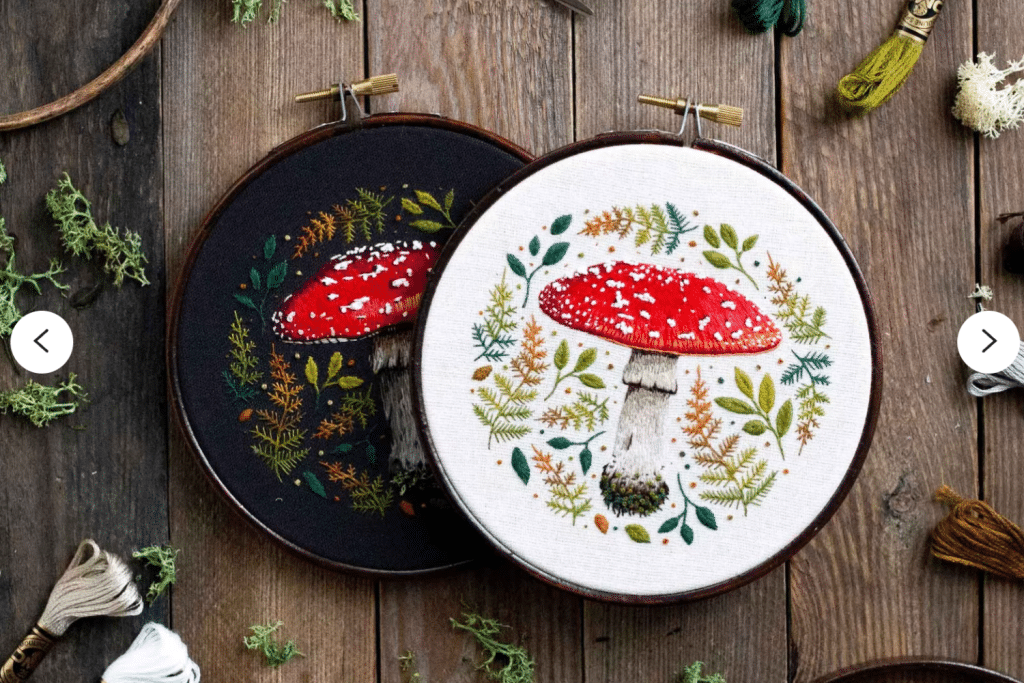 Retro Amanita
This beautiful retro design by StickZebraEmbroidery is ready to go using an embroidery machine. This intermediate pattern is perfect for mushroom lovers looking for something a little more subtle than some of the other patterns we've discovered so far.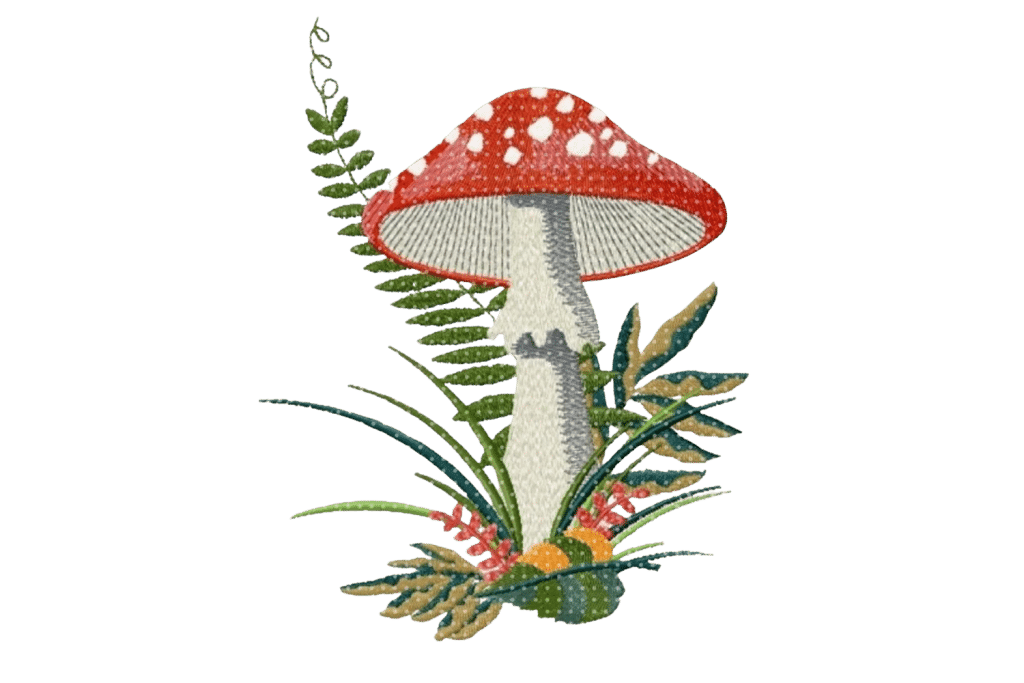 Witchy Amanita Cross-Stitch Embroidery
This classic cross-stitch embroidery pattern by XCrossStitchPatternX uses a retro 8-bit design featuring a patch of mushrooms growing out of the soil. This piece can be modified to fit round, rectangular, or irregular pattern designs and is the perfect project for beginners looking to get into the craft.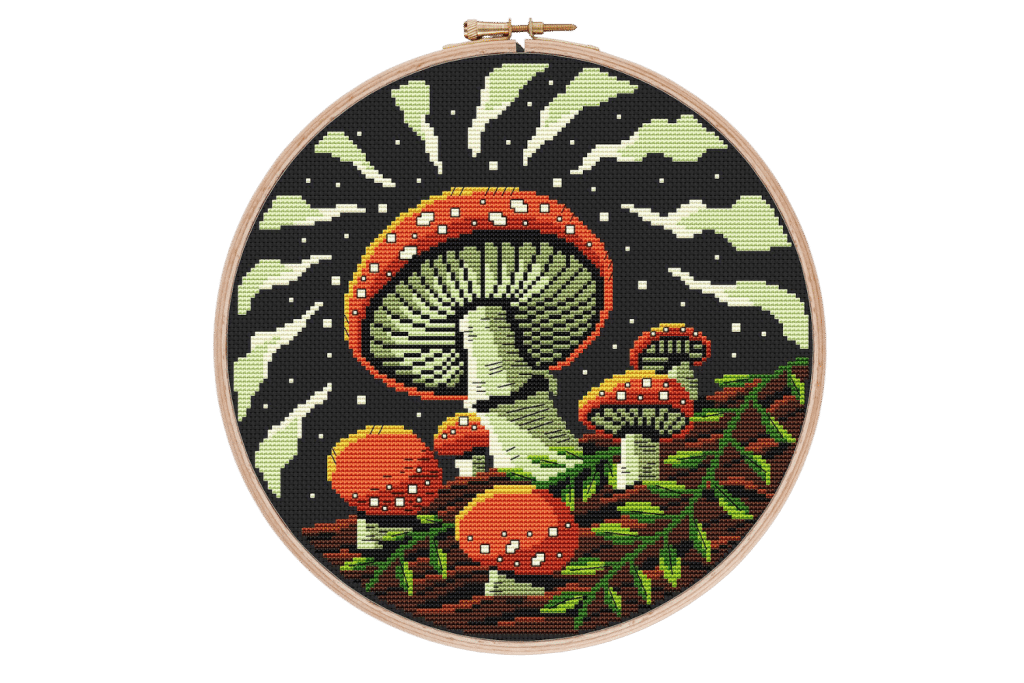 Realistic Amanita Embroidery
If you like the look of a more realistic mushroom embroidery design, this Amanita muscaria pattern is the perfect place to start. This design, by HelloHoop, has tons of detail, including shading, highlighting, and celebrates the natural irregularity of mushrooms found in the wild.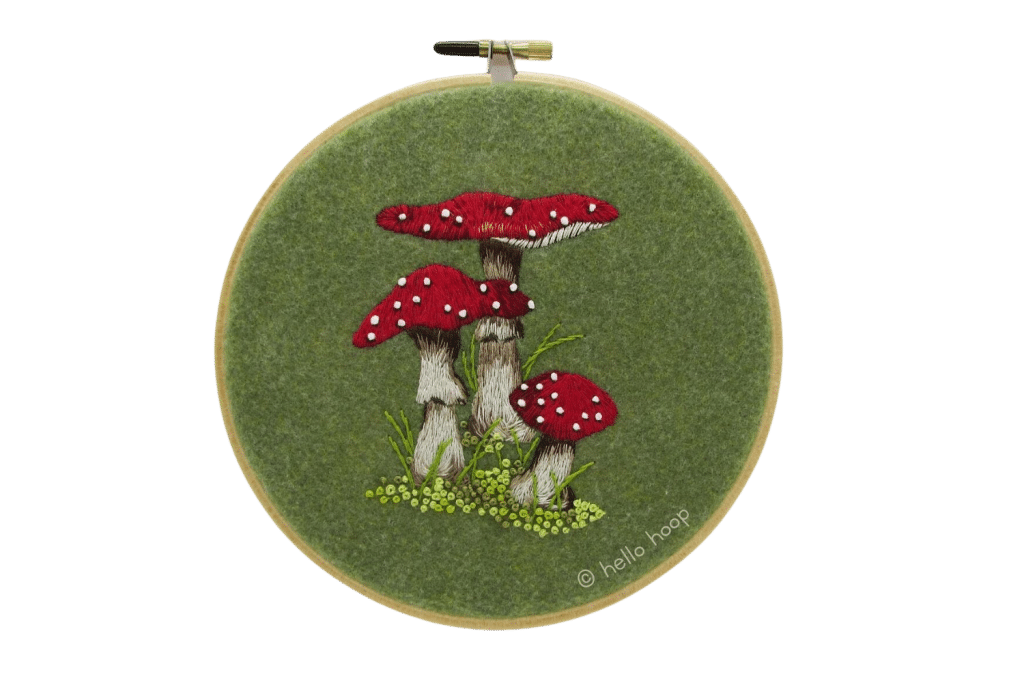 Spooky Ghost Mushrooms
These cute little ghost mushrooms by SonyaEmbroideryStore would make perfect patches for T-shirts, backpacks, or blankets. There are four different designs in this pack; each one comes as a digital file that can be scaled up or down to match whatever project you're working on.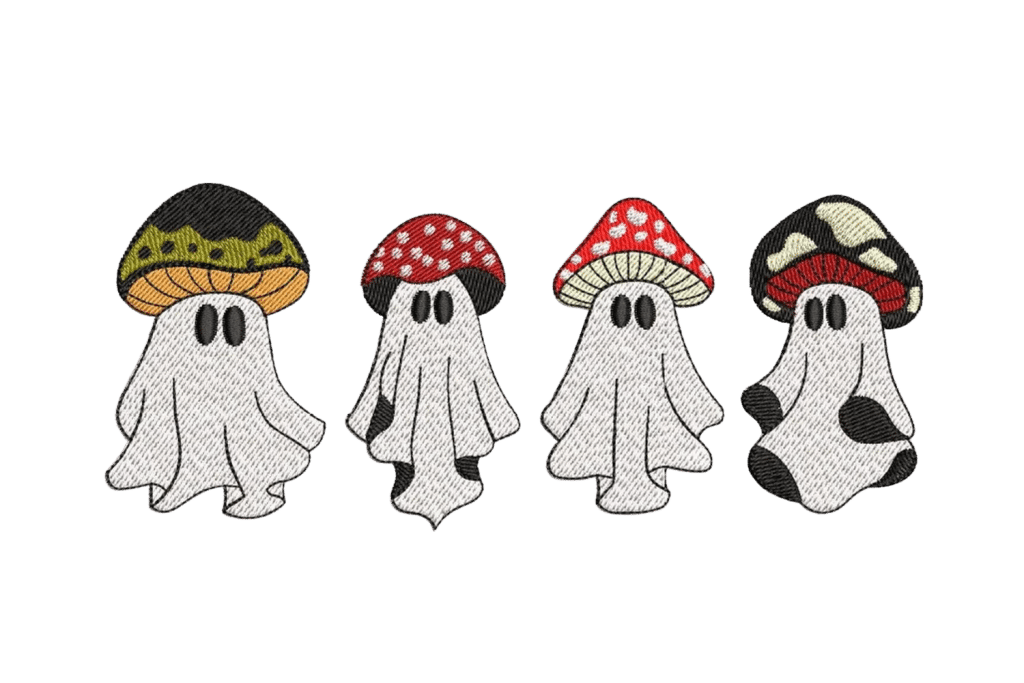 Edible Mushroom Embroidery Patterns
There's a lot more to mushrooms than psychedelics. The world of edible mushrooms features some impressive members as well that lend themselves perfectly to embroidery. Any of these patterns would make for a perfect custom gift for any mushroom-loving friends or family.
These patterns feature such species as morels (Morchella esculenta), hen of the woods (Grifola frondosa), boletus mushrooms (Boletus edulis), chanterelles (Cantharellus cibarius), and more.
Mushroom Circle
This embroidery kit comes with everything you need to get started with embroidery and features a nice array of medicinal and functional mushrooms. Feel free to complete the whole thing as-is or pick and choose the mushroom species you want to embroider.
From this image, I can spot a few different mushrooms:
Boletus mushrooms
Chanterelles
Amanita muscaria
Morels
Psilocybe spp.
This embroidery kit is sold on Etsy by EmbroideryShopByFei.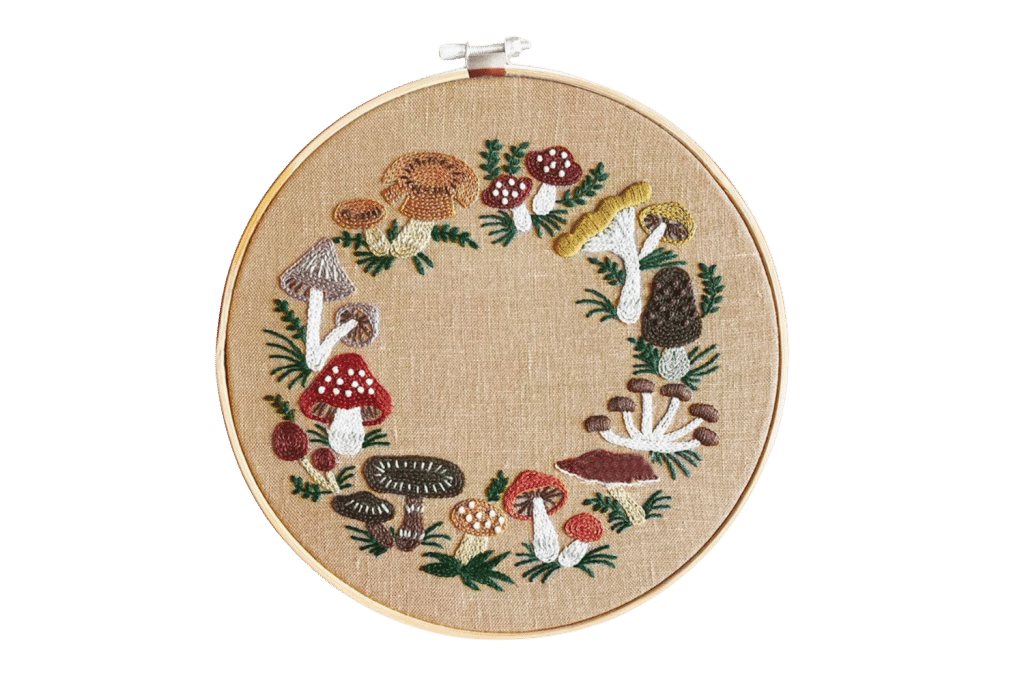 Mushroom Forest
This kit by RiverBirchThreads offers a straight-line embroidery pattern with a variety of forest mushroom species as well as some other forest elements such as various leaves, a snail, and some flowers.
This kit is sold as a digital pattern download.
Simple Edible Mushrooms
This kit from AtlasEmbroidery comes with the patterns for nine different edible mushroom species, including chanterelles, enoki, portabello, button mushrooms, oyster mushrooms, porcini, honey agarics, enokitake, and morels.
This is a digital pattern for machine embroidery and can be scaled up or down to any size.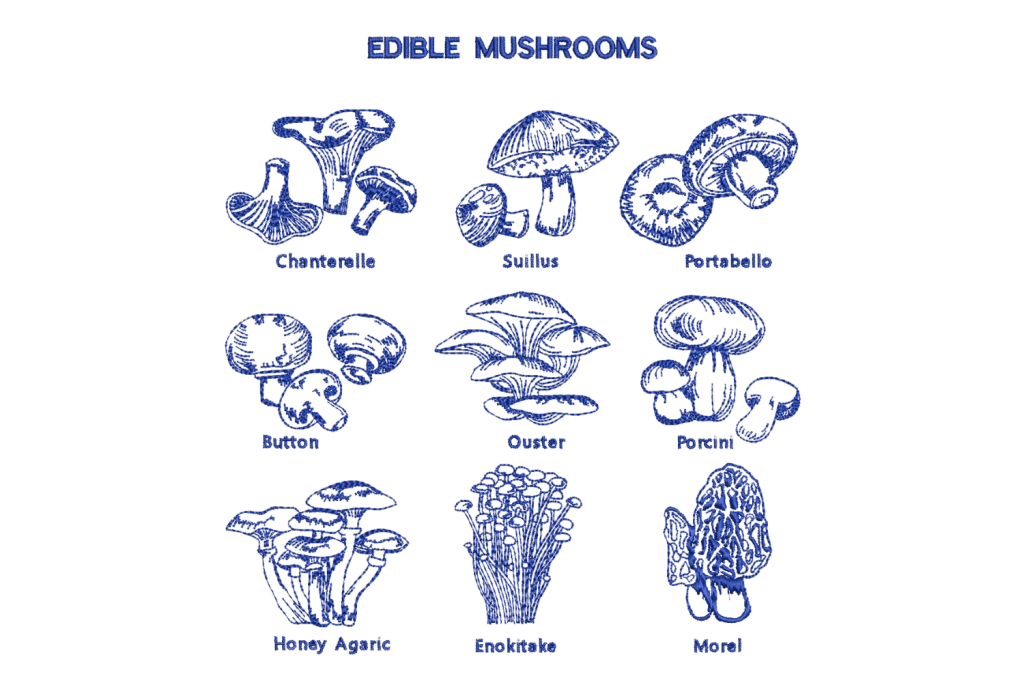 5 Mushroom Designs
This pattern by CustomDIYgiftsStore contains five cross-stitch embroidery patterns you can put on anything you like. These edible mushroom patterns would make for the perfect mushroom-themed DIY gift.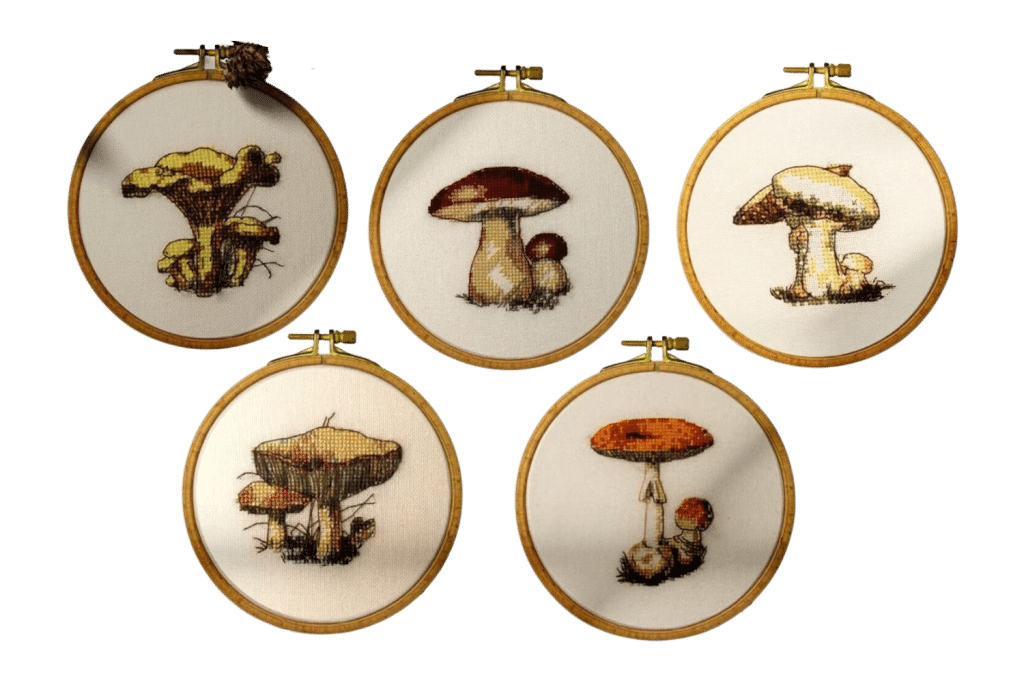 Hen of the Woods Kit
This impressive design by syrupstitches comes with everything you need to complete the work. This 3-dimensional piece contains one hen of the woods (Grifola frondosa) growing out of a log. It's an incredibly intricate piece, probably more suited towards intermediates, but with enough patience, anybody should be able to complete this work of thread art themselves too.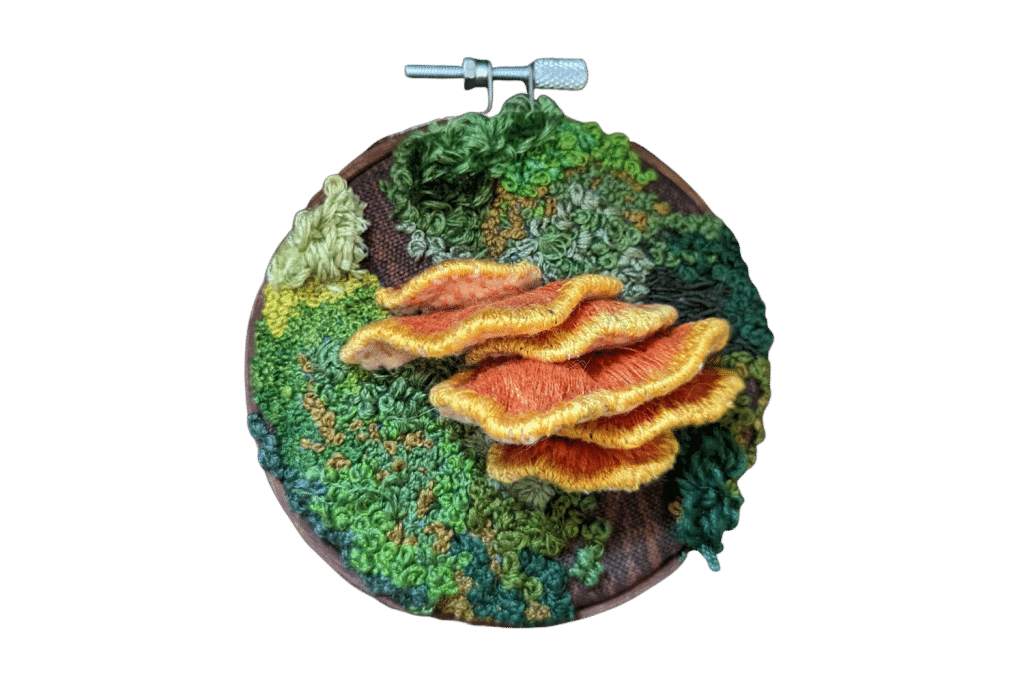 Autumn Mushrooms
These beautiful fall-themed hand-embroidery mushroom designs by EmbroideryArtbyNat contain a variety of mushroom species — fly agarics, oyster mushrooms, porcini, and boletus.
This design doesn't include any threads, but all the color codes are supplied, so you can pick up the same threads the designer used.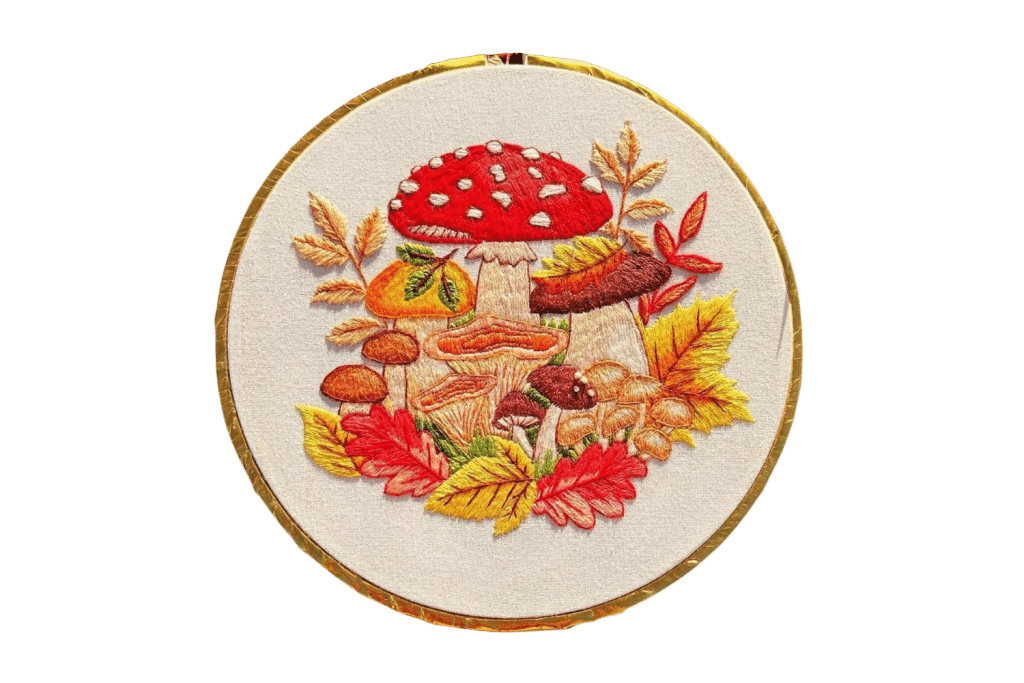 Psychedelic Embroidery Patterns
These patterns feature various species of mushrooms but with a super psychedelic focus.
See the Magic Amanita Patch
This completed patch by WildflowerandCompany features an amanita mushroom with some ferns, what looks like Panaeolus cyanescens mushrooms, and a little toad (could be Bufo alvarius?).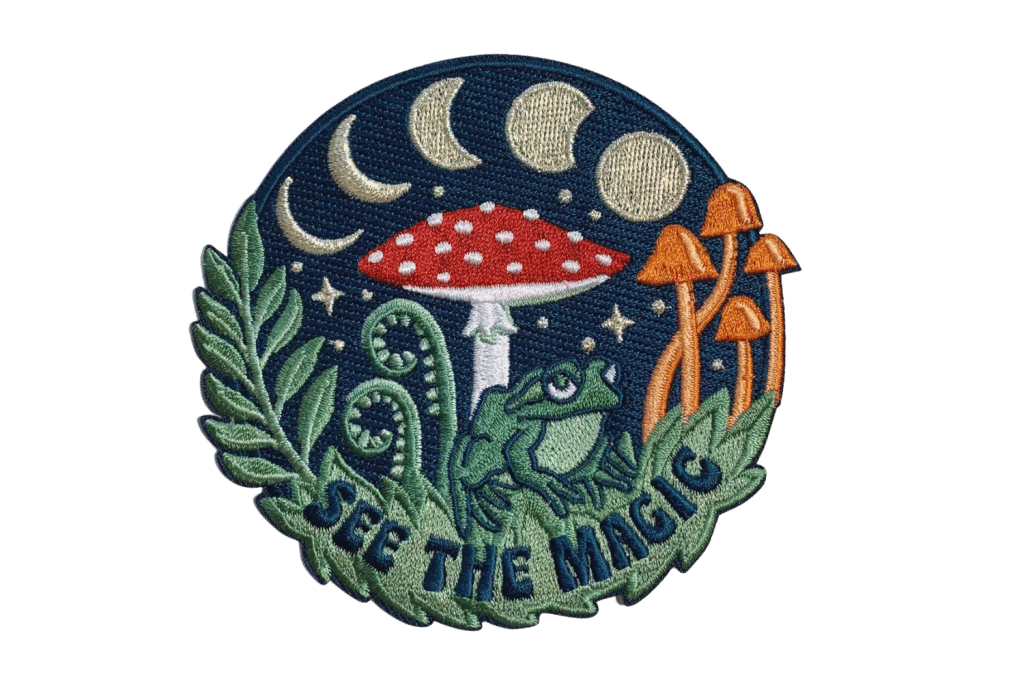 Mandala Eye
This pattern isn't a mushroom, but we decided to include it anyway because it fits with the trippy nature of some of the other patterns on this list.
This mandala eye was created by DizzyEmbDesigns and is sold digitally via Etsy.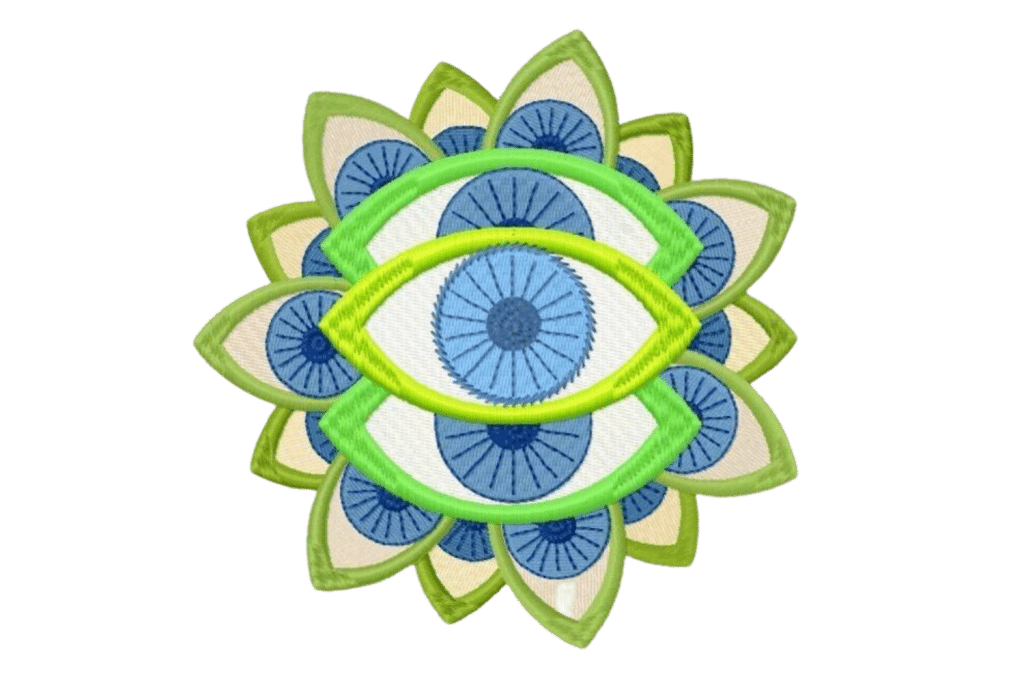 Psychedelic Toad Shrooms
This 10-inch, minimalist embroidery pattern by tuskandtwine features a trippy toad (looks like Bufo alvarius) with several species of mushrooms growing out of its side.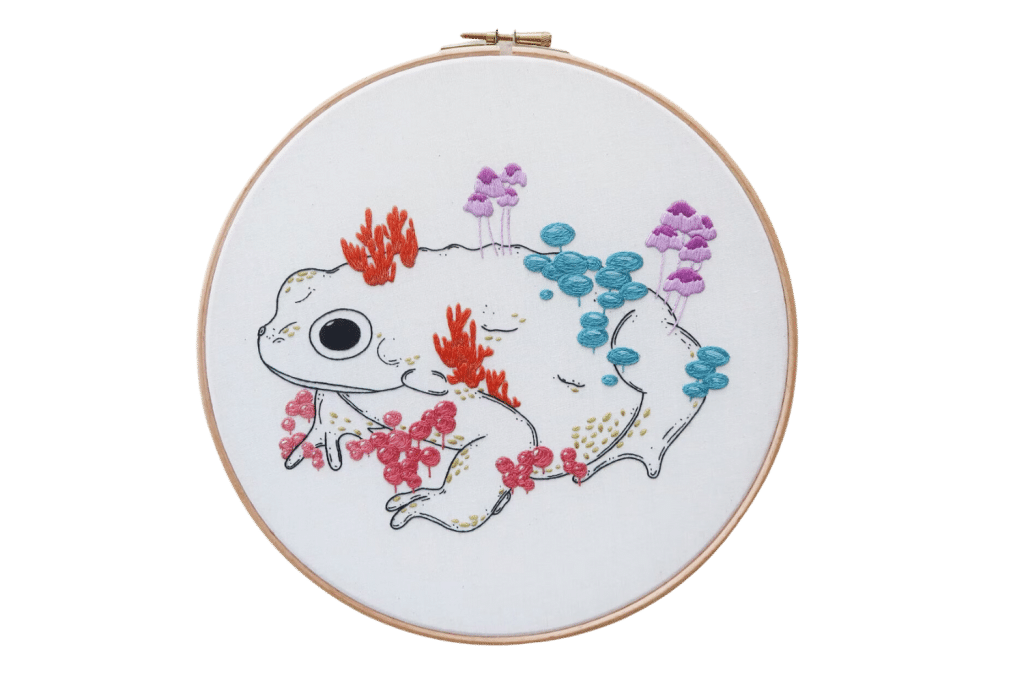 Psychedelic Smiles
These smiles by SarasembroideryArt are just trippy enough for us to recommend them on our list. There are three separate designs here, each featuring a distinct psychedelic, melty smiley face.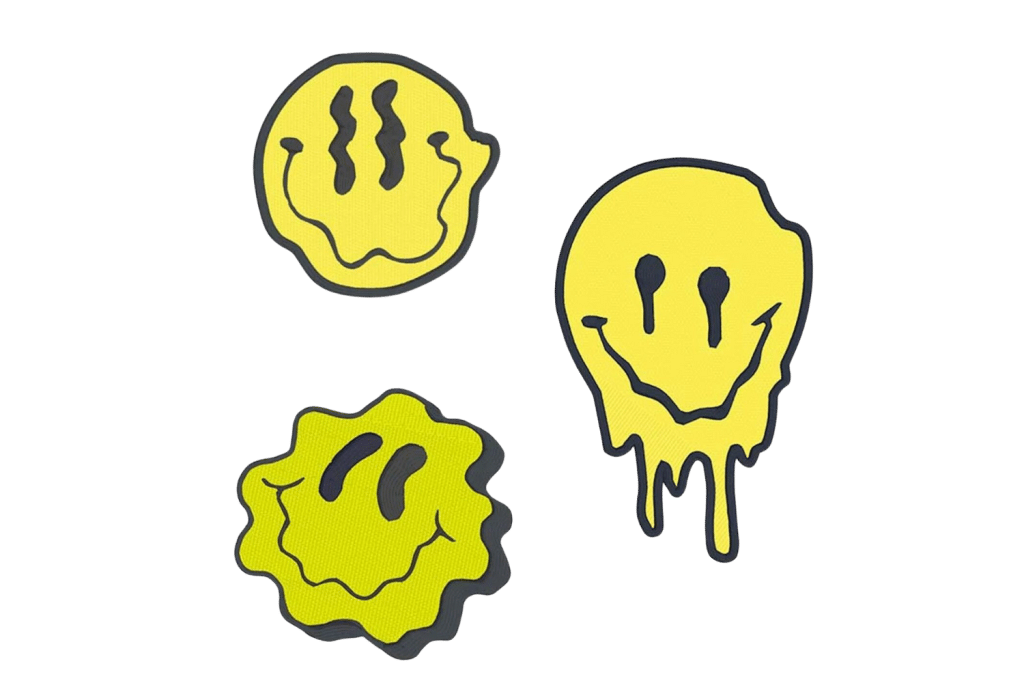 What You'll Need to Get Started With Mushroom Embroidery
Depending on the type of embroidery you're practicing, you'll need some tools to get started.
Simple cross-stitch or hand embroidery is the easiest to get started. Most kits don't require any additional tools; they provide all the necessary threads, needles, and patterns.
Unless you're buying a complete kit, you'll need the following tools for hand embroidery:
Embroidery Needles — You only need one, but it's a good idea to get a few different sizes depending on the project you're working on.
Embroidery Hoops — These hold the fabric tight while you work. They come in various sizes and materials.
Scissors — A good pair of small, sharp scissors is essential for cutting thread.
Thimbles — These useful, cheap devices protect your finger when pushing the needle through the fabric.
Needle Threader — This is helpful if you have difficulty threading the needle, but not completely necessary.
Tweezers — Useful for positioning threads and picking out stitches.
Marking Pens/Pencils — Look for water-soluble or disappearing ink pens to help lay out the design before you start.
Ruler — This is optional but helps a lot with layout and keeping your lines straight.
Magnifying Glass — This tool is especially useful when working with very small threads.
Machine Embroidery
Machine embroidery requires an embroidery machine along with a variety of other tools and materials. It's much more complicated than cross-stitch or hand embroidery, but the possibilities with this craft are limitless.
There are two main types of machine embroidery:
Free Motion — This is done using a regular sewing machine. Manual control is used to draw the embroidery designs.
Computerized — This style of embroidery is (mostly) automatic. It allows for a high degree of detail in the work.
Machine embroidery allows you to create highly intricate, detailed shapes on virtually any kind of textile — shirts, hats, bags, jackets, and so much more.
Here's what you'll need to get started:
Embroidery Machine — This is the primary tool used in machine embroidery. They come in all sizes, capabilities, and budgets.
Embroidery Software — This is used to create and modify designs before sending them to the machine. Many of the designs included above can be entered into the software to generate the mushroom designs.
Embroidery Hoops — These are used to hold the fabric taut while the machine works on it.
Stabilizers — These devices support the fabric and prevent it from puckering during the embroidery process.
Embroidery Needles — Special needles are available that are specially designed for machine embroidery. The type of needle you should use depends on the material you're working with.
Embroidery Thread — This is available in a variety of colors and types, such as rayon, polyester, silk, etc.
Thread Snips or Scissors — Use these for trimming threads close to the embroidery.
Bobbin Thread — These are used in the bobbin and are typically lighter weight than the embroidery thread.
Tweezers — Some small tweezers can help manage positioning small or intricate parts of the design but aren't totally necessary.
Seam Ripper — Use this in case you make a mistake and need to undo stitches.
Temporary Adhesive Spray — This sticky spray is used to temporarily hold the fabric in place as you work.
Marking Tools — These help get the layout of your embroidery. You can use water-soluble pens, chalk, or other marking tools.
Mushroom Embroidery Video Tutorials
The easiest way to learn embroidery is to just get started. Mistakes are bound to happen, but the only way to be good at something is to be kind of bad at it first.
Here are some of the best mushroom embroidery tutorials we've found to help you get started:
Simple Mushroom Hand Embroidery Tutorial
Fly Agaric Mushroom Embroidery Tutorial
Mushroom Pocket Tutorial
Mushroom Embroidery For Beginners
Embroidery Books
A good book is a great item to have around, regardless of your skill level. For novices, these books serve as a quick reference manual to help you get through common problems as you stitch.
For people with more experience, these books help spark inspiration and teach you new tips and tricks to keep your craft evolving and developing over time.
Here are some of the best resource manuals on embroidery to add to your arsenal: