Adelle Davis: On A Quest for God Through LSD
During her lifetime, Adelle Davis took five LSD trips which she documented in a book under the pseudonym Jane Dunlap.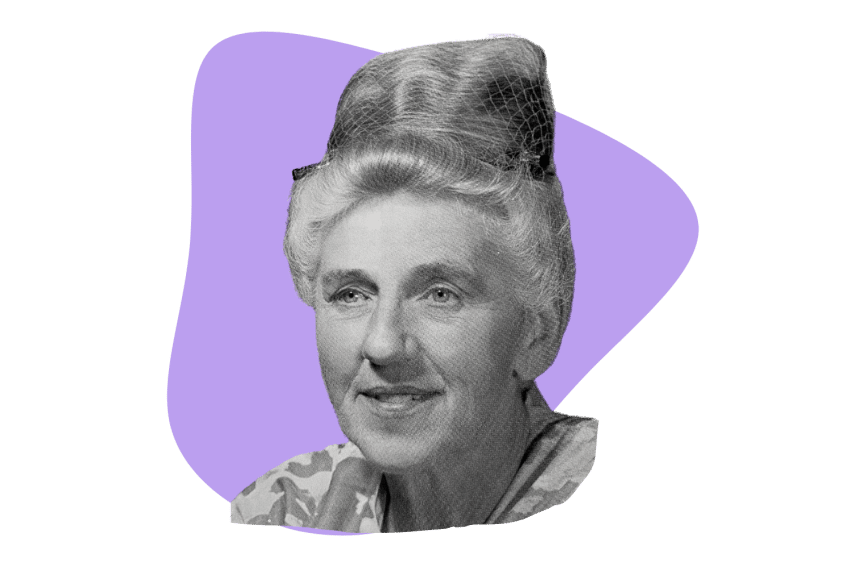 Adelle Davis was one of the most popular nutritionists in the early to mid-20th century, best known for the quote, "Eat breakfast like a king, lunch like a prince and dinner like a pauper."
She was also known as Jane Dunlap, a pseudonym under which she wrote her book that documents her LSD trips. Adelle is the author of four best-selling books that sold over 10 million copies, including her contemporary popular Let's Eat Right to Keep Fit.
Considered a food faddist by some and a pioneering nutritionist by others, Adelle was a brave, intelligent woman with a rare professional background for her time.
She advocated for vitamin supplementation and was a fierce opponent of processed foods consumption. But, she also held the extreme view that social problems like alcoholism, impotence, and high divorce rates directly correlate to inadequate nutrition [1].
This article summarizes the most important events of Adelle Davis's life and her involvement in the psychedelics space.
| | |
| --- | --- |
| Birth & Death | 1904-1974 |
| Occupation | Nutritionist, Author |
| Nationality | American |
Early Life & Education of Adelle Davis
Daisie Adelle Davis was born on February 25, 1904, to Charles and Harriette Davis.
She was born and raised on a small-town farm near Lizton, Indiana, by her father and an elderly aunt. Adelle was the youngest of five sisters and had a strict upbringing because her father had wanted a son.
Ten days after her birth, Adelle's mother got paralyzed by a stroke and died seventeen months later. Throughout her life, she felt that her interest in nutrition stemmed from her lack of oral feeding as an infant. In the 1900s, bottle feeding was unknown, so her family fed her with an eye-dropper.
Adelle Davis is a University of California at Berkeley graduate (1927) who transferred from Purdue University, Indiana. Initially studying home economics at Purdue, Adelle switched to and graduated with a degree in dietetics at Berkeley.
She received her Master's in biochemistry from the University of Southern California in 1938.
Davis died in California in May 1974, leaving behind a solid critique of the average American diet — which many would argue — that it's relevant today. She married twice and had two adopted children.
Adelle Davis Career & Controversy
From 1927 to 1928, Adelle received further dietetic training at New York City hospitals and consulted as a nutritionist for New York obstetricians. But, she sincerely wanted to work closely with individual patients, so in 1931, she moved to California, where she consulted for doctors and medical clinics for a few years.
Her writing career formally started in 1932 when she did a promotional pamphlet for a milk company. In 1942, Adelle wrote a nutrition textbook for Macmillan: Vitality Through Planned Nutrition.
In 1947, she wrote the bestselling Let's Cook It Right, followed by Let's Have Healthy Children (1951), Let's Eat Right to Keep Fit (1954), and the 1965 Let's Get Well.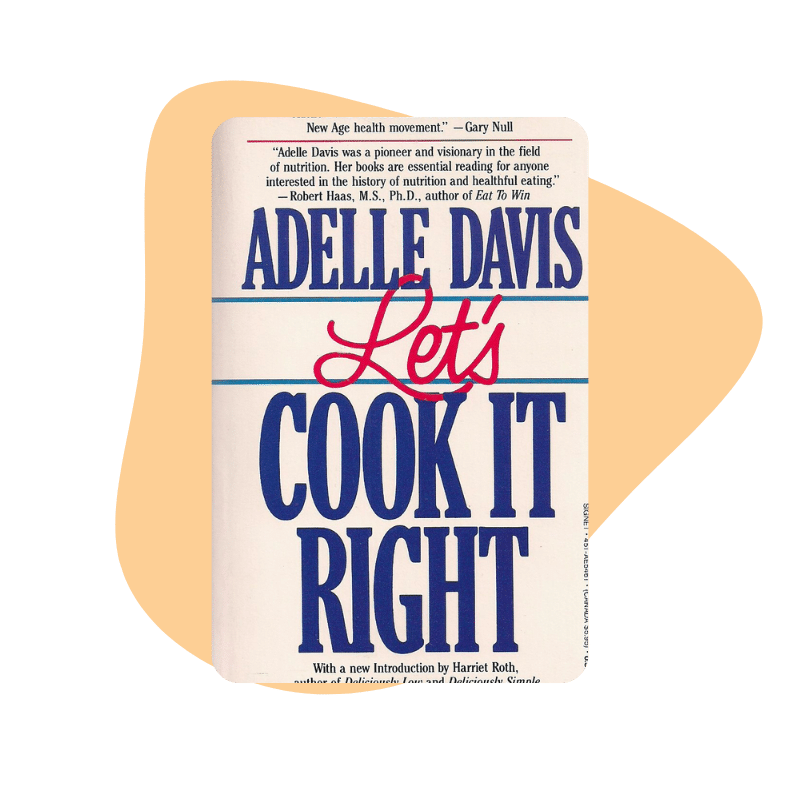 Davis saw herself as an interpreter or a reporter who gathered information from journals and "translated" them for the layman. She would put thousands of references in her books to support the health claims.
Adelle Davis attributed America's social problems to bad nutrition. She boldly criticized the food industry or the "commercial people" and their "propaganda" for advertising foods stripped of vitamins or minerals.
Despite the success of her commercial books, Davis received constant criticism and pushback from the scientific community for some of the things she claimed in her books. At the 1969 White House Conference on Food and Nutrition, she was deemed the nation's most damaging source of false nutritional advice [2].
She also got sued several times by the children's parents, who were victims of her ill advice.
One of them was a 4-year-old girl with diarrhea, vomiting, loss of hair, and fever brought to the hospital for treatment. The girl's mom had given her large amounts of vitamins A and D in combination with calcium lactate, as Davis's book Let's Have Healthy Children (1951) recommended. After being hospitalized, the little girl stopped receiving the vitamins, and the symptoms ceased.
Two-month-old baby Ryan Pitzer wasn't as lucky. He died of potassium chloride administration for colic in 1978. In her book Let's Have Healthy Children (1951), Davis claimed that parents should give colicky babies potassium chloride. Davis gave the recommendations due to misinterpreting an article about potassium metabolism in children with gastroenteritis.
The article wasn't about colicky babies in the first place. It also warned that giving potassium to dehydrated children may cause cardiac arrest.
The parents sued Davis, and the suit was settled for $160,000. After the suit, the book was recalled from bookstores, changes were made, and it was reissued without the life-threatening info.
Adelle Davis's Stance on Psychedelic Drugs
Adelle Davis went on five LSD trips in 1959 and 1960 on a quest for spiritual enlightenment. She documented her experience in Exploring Inner Space (1961), written under the pseudonym Jane Dunlap.
In it, she writes that she perfectly remembers her LSD experiences as the most vivid things she's ever lived through. On her first LSD trip, she turned into an angel that delightfully floated through space while every cell in her body was in a frenzy of joyous vibration.
While she had some "hellish" experiences during her trip, Adelle also experienced a "feeling of deep reverence." The surge of joy and positive emotions she had on the trip she attributed to manifestations of God. Davis wrote in the book that she had been seeking God for a long time, and LSD had helped her find Him so quickly.
Her fourth session was nineteen days later on 150 micrograms of LSD when she transformed into a giant, luminous cobra that took her in ancient India in Buddha's father's royal garden. She then traveled through time to see young Jesus and Muhammad as a boy in Mecca.
The cobra unexpectedly commanded Davis to confront repressed feelings of fear, which she'd been avoiding. The cobra confronted her about her refusal to accept God's love and for seeking fulfillment in materialistic comforts, including human love and career.
Adelle Davis Books
Optimum Health (1935)
You Can Stay Well (1939)
Vitality Through Planned Nutrition (1942)
Along The Backroads of Europe (late 1950s)
You Can Get Well (1965)
Let's Stay Healthy: A Guide to Lifelong Nutrition (1981)
Exploring Inner Space: Personal Experiences Under LSD-25 (1961)
Bestsellers
Let's Eat Right to Keep Fit (1954)
Let's Get Well (1965)
Let's Cook It Right (1947)
Let's Have Healthy Children (1951)
Adelle Davis Interviews
1. Johnny Carson's The Tonight Show (1972)
She appeared on Johnny Carson's The Tonight Show. She was quickly cut from the broadcast for saying that "the health in America is controlled by the refined food industrialists who support a multi-billion dollar business."
2. Interview with Nutritionist Adelle Davis
This is an October 1971 interview where she talks about the food manufacturers and the damage done by their unethical manufacturing and selling practices. She condemns the consumption of white flour, refined sugar, and cereals because they have been stripped of vitamins and essential nutrients.
3. Interview With Adelle Davis
Another interview where she talks more about her books and proper nutrition. She recommends people stick to unrefined, organic foods and a simple diet of whole grains, fruits, vegetables, milk, cheese, and eggs.
Summary: Who Was Adelle Davis?
A food faddist for some and a "high priestess of nutrition" for others, Adelle Davis, left a valuable legacy behind.
She was one of the few prominent female nutritionists of her time that were educated and trained in dietetics and nutrition at prestigious universities.
Over the years, Davis has written several bestsellers on proper nutrition that are still relevant today despite some of their controversial information. A prolific writer, Davis created a body of work that includes her experience with LSD, written under the pseudonym Jane Dunlap.
Despite her difficult life, Adelle's resilience, cheerfulness, and bravery shone through her motherly eyes as she believed that her nutritional advice was the most truthful thing in the world.
---
References
Carstairs, C. (2014). "Our Sickness Record Is a National Disgrace": Adelle Davis, Nutritional Determinism, and the Anxious 1970s. Journal of the History of Medicine and Allied Sciences, 69(3), 461–491.
Notable American women: a biographical dictionary completing the twentieth century. (2005). Choice Reviews Online, 42(11), 42–6204.