What's Coming Up for Psychedelics in 2023? (USA)
The legislative world is moving fast on psychedelic reform 💨 What will 2023 bring?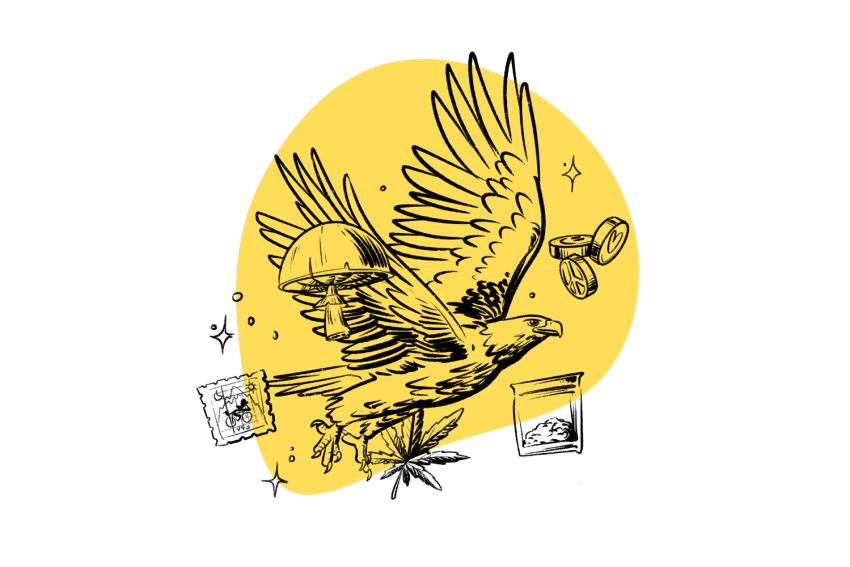 Psychedelic movements have gained a foothold in a select few areas. While the movement is still in its relative infancy, momentum means 2023 is a year worth watching.
In this article, we'll break down the various psychedelic legalization/decriminalization efforts throughout the United States.
Here's an alphabetical breakdown of what we'll get into below:
And this is just at the beginning of the year. As time goes on, this list is sure to grow and shrink as new initiatives come in or die out.
Some of these measures seek to decriminalize psychedelics or even create a legal framework for using them. Others are more incrementally-focused and may center around research efforts or other small steps.
Current State of Psychedelics in the United States
United States 2023 Psychedelic Decriminalization Efforts
The following states are working on achieving the decriminalization of (some) psychedelics.
While this is different from full-on legalization, there's often a loose framework that could make it possible to operate within a gray area or create legal clinics for use.
Here's who to keep an eye on in 2023:
California's SB 58 Fights to Decriminalize Natural Psychedelics
State Senator Scott Wiener is spearheading State Bill (SB) 58, decriminalizing natural psychedelics. While excluding MDMA and LSD, this would legalize several activities with psilocybin, mescaline (excluding peyote), DMT, and ibogaine.
In 2022, Sen. Wiener filed a similar bill that included MDMA and LSD, but it was amended so many times it became useless before it even received a vote. The final results of the bill were only legalizing the research of psychedelics, so Wiener pulled it from the floor and decided to try again next year.
This year, Wiener is trying again without "synthetic substances." We reached out to a spokesperson for Sen. Wiener asking if this was an effort to make the bill more palatable but did not receive a response.
Despite these shortcomings, the bill seeks to decriminalize certain activities that would essentially legalize the psychedelics it includes. SB 58 allows for large carry limits and the production and transfer of psychedelics inside or outside a clinical setting.
While selling the listed substances would still be illegal, SB 58 would make it legal to gift them and charge for therapeutic services.
→ Learn more about the current state of psychedelics in California.
Colorado is Hammering Out the Details on Prop 122
Coloradoans voted to decriminalize MDMA and natural psychedelic substances by passing Proposition 122. This year, they will form and begin to utilize an advisory board to determine the rules for the new legislation.
The current timeline for the legislation to finalize these rules is the end of January 2024. If the fight in Oregon is any indication, this time is far from a waiting period.
Over the year, we will begin to see what legalization looks like in Colorado. Victories and losses rocked advocacy groups with each revision of Oregon's rules, and it's likely to be the same here.
Public comment will likely be a big part of this, so we'll have to remain vigilant for when the government needs to hear the voice of the people.
→ Learn more about the current state of psychedelics in Colorado.
Connecticut is Proposing Change
State Representative David Michel has proposed legislation this year for "the use of psilocybin for medicinal and therapeutic purposes." Since this is basically a proposal for a proposal, the language is short and straightforward enough to read on your own below: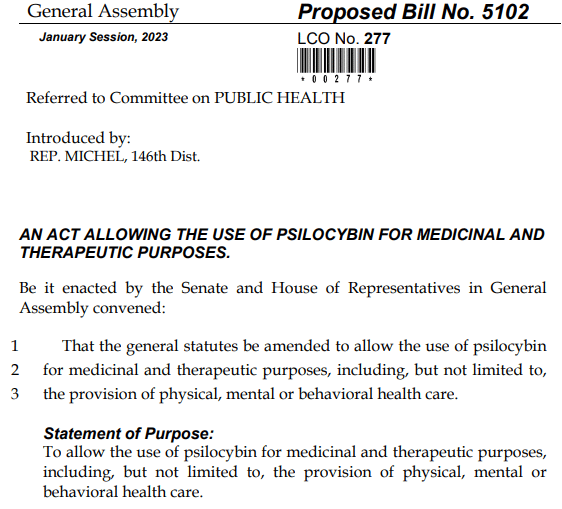 That's all we have to go off of so far, but we'll keep an eye on where this goes as the year progresses. Only time will tell if this turns into a restrictive program for a select few or a robust reformation of psychedelics.
→ Learn more about the current state of psychedelics in Connecticut.
Illinois Lawmaker Pushes for Decriminalization and Expungements
Representative La Shawn K. Ford is leading the charge for legalizing psychedelic therapy in Illinois. The Compassionate Use and Research of Entheogens (CURE) Act would set a regulatory framework for the production, sale, and administration of psychedelics.
It also contains language offering expungements for prior offenses. As it currently stands, the bill would remove psilocybin from the list of controlled substances altogether.
If Illinois succeeds, it will be the first Midwestern state to make this movement.
→ Learn more about the current state of psychedelics in Illinois.
Massachusetts Advocacy Group is Planning Big Things
Two bills are working their way through the legislative system in Massachusetts with similar goals this year. Rep. Lindsay Sabadosa introduced HD 1450 to the house, while Sen. Patricia Jelen brought SD 949 to the Senate.
Both seek to legalize the use, production, possession, and gifting of certain natural psychedelics. In each, carry limits are set at 2 grams across the board, with the caveat that plant/fungi material and water weight don't contribute to the weight.
It's unclear how this will shake out as time goes on — surely they don't anticipate law enforcement to extract and weigh the psilocybin from mushrooms. Attacking the effort from both sides of the legislation means this is a fight to watch, though.
The advocacy group Bay Staters for Natural Medicine has helped with both bills and will likely maintain as much influence as it can over its implementation. They've helped several cities in the state achieve decriminalization and are likely to work hard to pass a fair bill.
→ Learn more about the current state of psychedelics in Massachusetts.
New Jersey Bill S2934 Decriminalizes Mushrooms, Establishes Clinics
Senate President Nicholas Scutari filed a bill last year that will carry over to 2023. Bill S2934 legalizes the use, possession, and growth of psychedelic mushrooms.
It also seeks to establish the regulatory framework for selling psychedelics in clinical settings. Nichols was also responsible for decriminalizing the possession of up to an ounce of psilocybin in 2021.
Under the new law, businesses can apply for licenses to serve psilocybin in facilitated settings. Limits for the amount they can produce will apparently be subject to the New Jersey Department of health, which would base it "on demand."
→ Learn more about the current state of psychedelics in New Jersey.
New York 2023 Psychedelic Efforts
New York's Bill # A00114 would legalize "the possession, use, cultivation, and gifting or exchange of certain naturally occurring substances."
Assemblymember Linda Rosenthal (D) is the sponsor of this bill, which would legalize psilocybin along with other naturally occurring psychedelics. At this time, this wouldn't apply to MDMA or LSD since they are technically synthetic.
Additionally, considerations include the ability for psychedelic services to charge for the services surrounding the drug — though not for the substance itself. This bill also protects the rights of religious ceremonies using naturally occurring psychedelics.
→ Learn more about the current state of psychedelics in New York.
Oregon Fights to Stay in the Air Right After Liftoff
This is the first year Oregon will implement its psilocybin clinics, and all eyes are focused on how it turns out. Measure 109 made this practice legal two years ago, and it's taken as long to develop hotly-contested rules of operation.
Senator Steiner introduced SB 303 two weeks after Oregon finalized these rules. The bill would overturn the rights to data privacy that clients of psilocybin services receive from Measure 109.
If it passes, SBP 303 would require clinics to provide robust details on their general operation and personal details for each of their clients. Currently, this would not allow people to opt out of sharing their data to still receive treatment.
At the same time, Rep. Lily Morgan filed HB 2831, which aims to end the decriminalization policy in Oregon. Should this happen, the state would step backward into criminalization and would be the first to do so.
Oregon is the golden child for decriminalization in America, but these bills threaten that reputation and threaten to throw it back into the world of prohibition.
→ Learn more about the current state of psychedelics in Oregon.
Other Psychedelic Efforts in 2023
While these states aren't going as far as decriminalization, some are starting the conversation. Many of these are conservative states where starting a conversation is a big enough deal on its own.
Here are some of the places where we might see incremental progress over the year:
Missouri Is Considering a Medical Framework
Missouri Representative Tony Lavasco (R) is introducing a framework for the medical legalization of psilocybin. As you might expect, HB 869 is one of the most conservative approaches to reform yet.
To qualify for psilocybin-assisted therapy, patients will need a diagnosis from "a physician with a qualifying serious medical condition within the last 24 months." The bill specifically names PTSD, treatment-resistant depression, and terminal illness as qualifying conditions.
It doesn't close the door fully, stating "any other serious medical condition that has not responded positively or significantly to treatment" could qualify. It will also require a committee to establish the guidelines for training and licensing caregivers to administer the drug.
Though legal, the government would seek to maintain a tight grip on psilocybin production and dosing. This is not a decriminalization or legalization effort; it would still be illegal to consume these substances for anyone without these medical conditions.
→ Learn more about the current state of psychedelics in Missouri.
Minnesota Setting up an Advisory Committee
The Minnesota Medical Association recently released a statement endorsing decriminalizing all substances for personal possession. While it doesn't look like the government is ready to leap to decriminalization quite yet, one lawmaker — Rep. Andy Smith (D) — is pushing to establish a "psychedelic medicine task force."
While he's mentioned wanting to do this, there are no moves in this direction yet.
→ Learn more about the current state of psychedelics in Minnesota.
Montana Has Conflicting Opinions on Medical Treatment
Two bills are competing to establish their version of psychedelic reform in Montana. Both are in the drafting phase, and they come from opposite ends of the political aisle.
Rep. George Nikolakakos (R) is drafting LC2311, intending to study the use of psilocybin for mental health conditions. At the same time, Sen. Jill Cohenour (D) has aimed to legalize psilocybin for certain mental health conditions with LC1208.
Both fall short of decriminalization or legalization for residents without these conditions.
→ Learn more about the current state of psychedelics in Montana.
Oklahoma May Open the Doors for Research
The Republican Representative Daniel Pae recently introduced HB 2107, which gives "certain entities" the right to research psilocybin. Universities and research institutions could apply for a license under this law to study psilocybin for select conditions — with a limit of one study at a time.
Here is the section detailing the conditions these institutions may research for psilocybin treatment: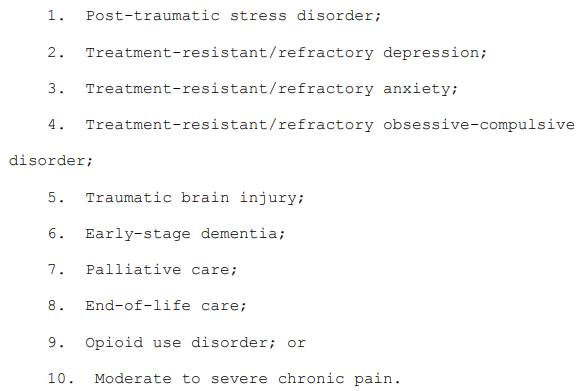 While containing a large number of restrictions, Oklahoma is at least putting itself on the board when it comes to psychedelic reform. The conservative state has been one of the few of its kind to reform the laws surrounding cannabis and may be looking to do the same for psilocybin.
→ Learn more about the current state of psychedelics in Oklahoma.
Virginia Wants to Establish an Advisory Board, Reclassify Psilocybin
This year, Virginia has already rejected a measure — HB 1513 — which aimed to make it possible for medical professionals to prescribe psilocybin. Despite the big loss so early in the year, they also have a minor win.
Senator Ghazala Hashmi's bill, SB 932, establishes a psilocybin advisory board and reclassifies psilocybin as a schedule 3 substance. While this doesn't legalize — or even decriminalize — psilocybin, it does make it a much lighter offense to possess and consume it.
The conservative nature of Virginia makes it another state where incremental change may be more feasible than sweeping legislative efforts.
→ Learn more about the current state of psychedelics in Virginia.
Conclusions: Is 2023 Going to be a Banner Year for Psychedelics?
It's important to remember that every piece of legislation in this article is in its infancy. As the year goes on, they will twist and morph into something that will either withstand the storm of a vote or die and wither away.
With legislative changes — especially those aiming for such massive shifts in understanding — even failed legislation serves a purpose. The more these topics enter the conversation of the general public, the more evident it becomes how long it's taking to enact these sensible changes.
Public opinion is a great motivator for getting politicians to move. After all, the public is also responsible for electing them to office.
While much of society has come around to the idea of psychedelics and their potential, it's hard not to feel resolved to impossibility. Many states can't even pass laws to allow for medical marijuana yet, so psychedelic reform can feel far off.
As more bills come to the floor, word starts getting around that this lofty goal may actually be possible. This year, more than any other year before it, these changes look feasible.