The Magic Mushroom Dispensary Experience: What to Expect
Considering the legal landscape, shroomeries are either revolutionary or a huge risk. Maybe both.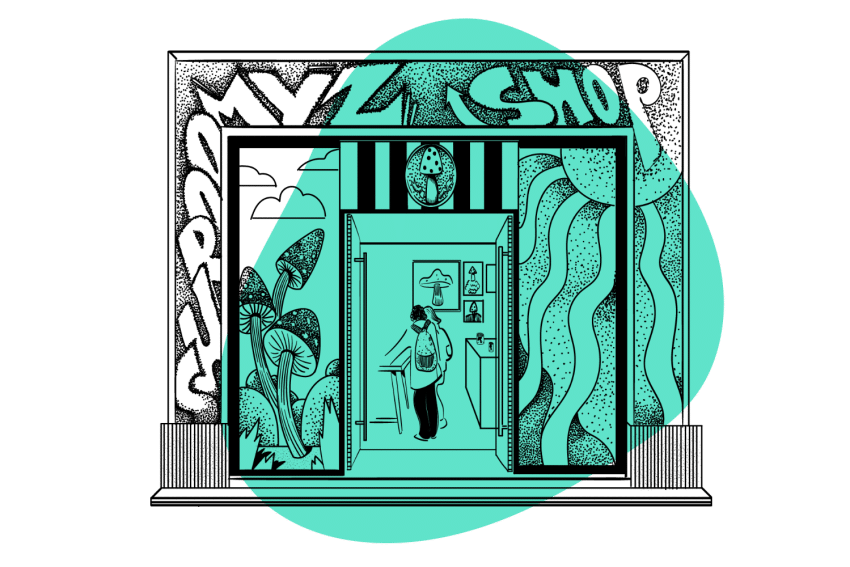 With the psychedelic movement well underway, a handful of mushroom dispensaries are cropping up across North America. Most operate within a grey area of legislative uncertainty.
Some shop owners define their shroomery as an act of protest, claiming the public deserves safe and affordable access to psychedelic medicine. If they're not the ones to provide this service, they reason, who will?
Ever wondered what's going on with these magic mushroom dispensaries? Take a peek behin d the curtain to find out what life is like inside a shroomery — for customers and employees alike.
What's it Like Inside a Shroom Shop?
Jack (a pseudonym) is a long-time staff member at Shroomyz — a mushroom shop chain that started in Canada's capital, Ottawa — and has worked at the shop since the beginning. He was there when the first location opened in Ottawa in May 2021.
In our conversation, Jack told me he started working at Shroomyz because he thought it could be a "good opportunity." He said he already supported the idea of decriminalizing mushrooms.
Jack's favorite thing about working at a magic mushroom dispensary? "Being able to help people" who need it and point them "in the right direction."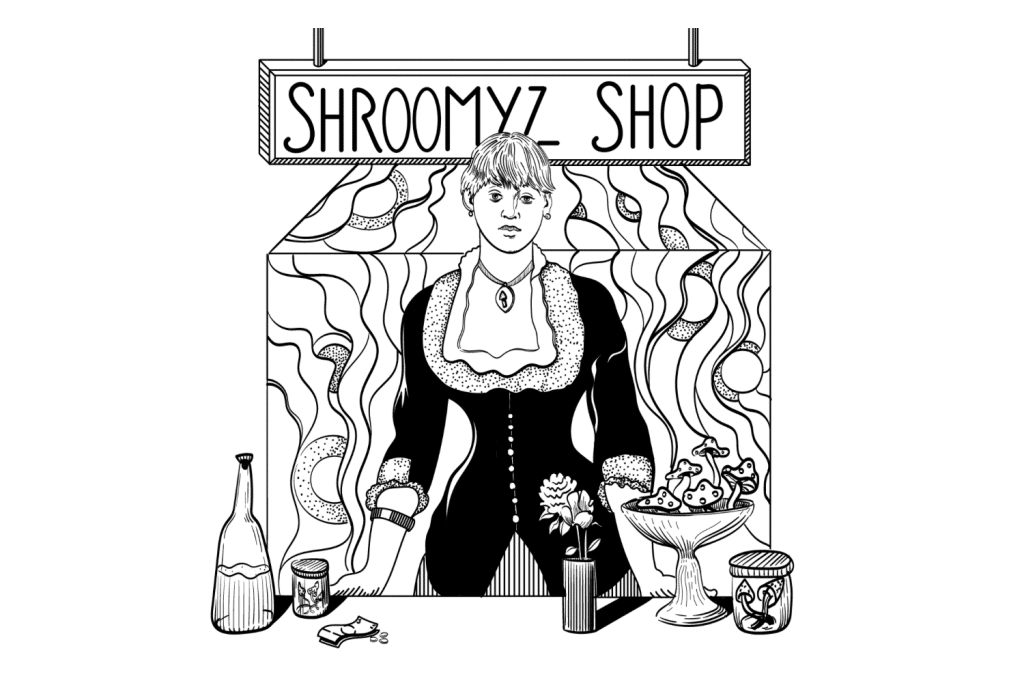 The outside of Shroomyz is bright, neon, and psychedelic. Large window stickers of mushrooms are clear about what's on sale inside. Ring the doorbell and come in — indoors, colorful mushroom-shaped lights, "Shroomyz"-themed graffiti, and branded t-shirts are on full display, in addition to their other wares.
Like most cannabis dispensaries, products are not out for customers to touch or test. Rather, the store displays models and empty packages on shelves so those interested can check out the labels.
Despite how it might seem from the outside, Shroomyz is not just for experienced consumers. "A lot of people are doing research on their own and finding out their own information on microdosing and come to us looking for more insight," Jack says.
"Sometimes other people will chime in with their own experience and help guide people towards what they're looking for. [The customer base is] very, very diverse. We have lots of people who are new and lots of people with previous mushroom experience."
Shroomyz has a wealth of offerings, including tinctures and teas, but according to Jack, the dried mushroom products and the microdose capsules are the most popular.
Where Are Mushroom Dispensaries Located?
Most of North America's magic mushroom shops are in Canada, largely in the urban hippie haven of Vancouver, British Columbia. Lenient drug laws enable this —  Vancouver already decriminalized psychedelics and B.C. did the same for small amounts of most hard drugs throughout the province this year.
Shroomyz is one of a few options open to the public and likely represents the largest current marketplace for psychedelic mushrooms. The shop made its way to Canada's biggest city, Toronto, in the fall of 2022.
As of today, there are three Shroomyz locations — one in Ottawa and two in Toronto. As Kevin Costner said in Field of Dreams, "If you build it, they will come," and people are coming to Shroomyz in droves.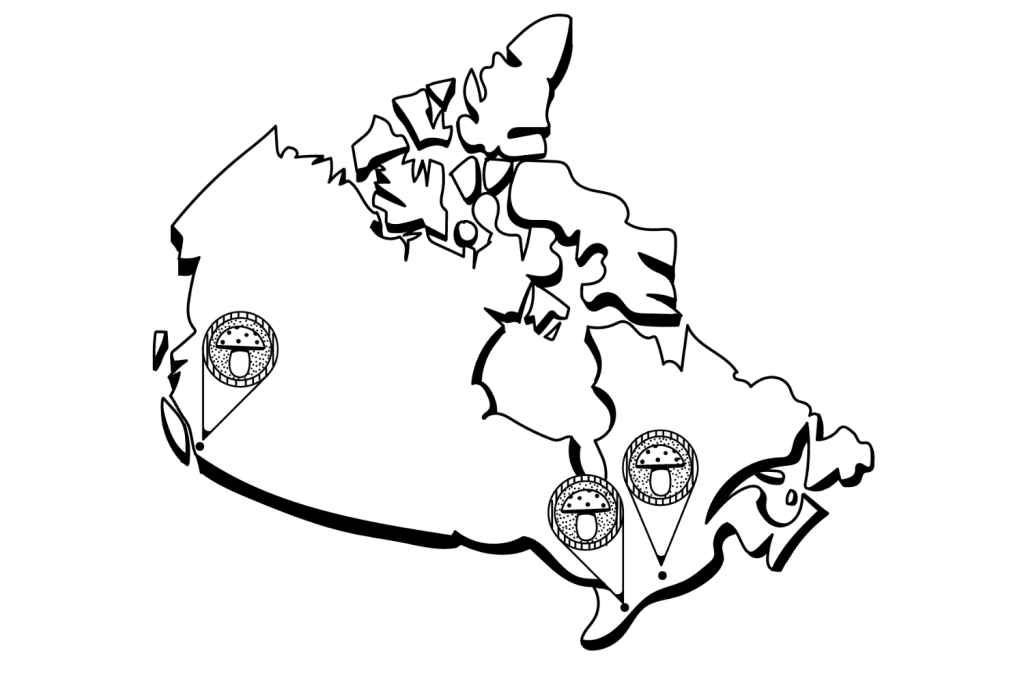 Like most dispensaries, Shroomyz requires would-be customers to fill out a waiver and self-diagnose with one or more disorders. The idea is to understand what they hope to treat through taking psilocybin.
Other shops — like Vancouver's Medicinal Mushroom Dispensary — require customers to become members through an online application. After a short wait of a couple of days, it's easy to shop for LSD microdoses, magic mushrooms, and more.
Criminalization compels shops like Shroomyz to crop up as the market swells. The government of Canada, while recognizing there can be some therapeutic and medical benefits to psilocybin use, still makes access very difficult.
Shroomyz seeks to act as a sort of middle-man dealer — where those who are curious or in need can go to a place that feels more honest and safe than a dark alleyway or a stranger's home. Even though psilocybin is still illegal under the Controlled Substances Act, a storefront can bring an air of legitimacy.
How Do Magic Mushroom Dispensaries Stay Open?
According to a CBC report quoting Toronto spokesperson Naomi Ahmad, "[t]he City of Toronto does not have the jurisdiction to enforce the Controlled Drug and Substances Act nor is a business license issued for this type of business."
This leaves the work of monitoring the shop to the police, who have already made their mark: November 2022's police raid on Shroomyz's first Toronto location led to two arrests of staff members.
When I had the chance to visit Shroomyz's newer location earlier this month, the aura within the storefront was calm. The 5 p.m. crowd walked right past the glowing sign, and mushroom imagery like it was just another cannabis dispensary or maybe even something less exciting.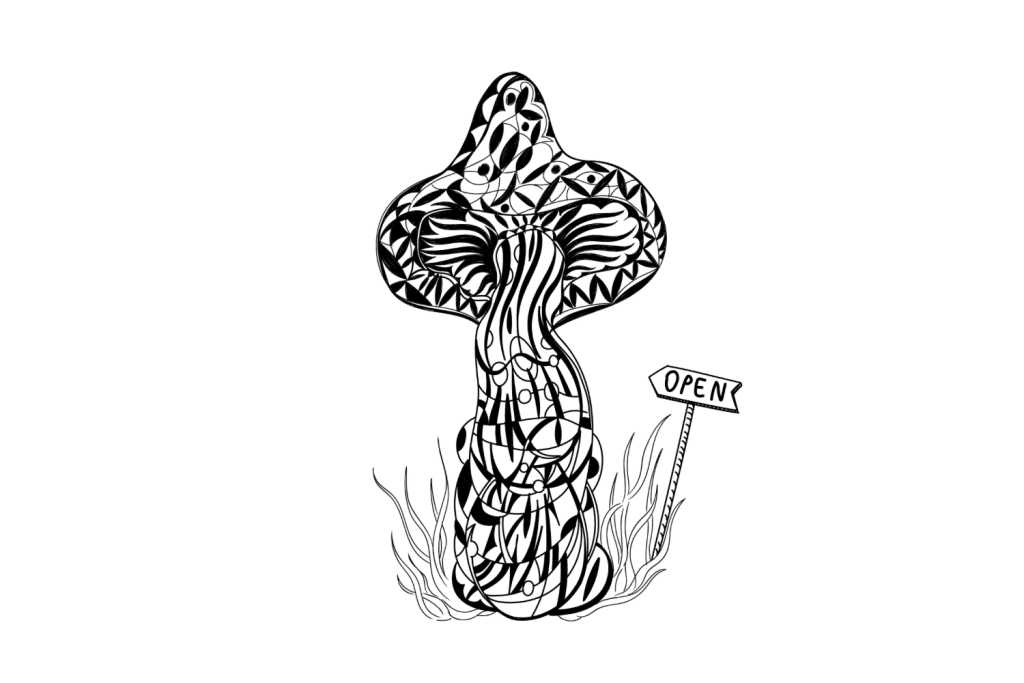 Perhaps, to them, the presence of either was unimpressive.
Hopefully, this is a sign of what could be — a shroom shop on the same street as a weed dispensary, a liquor store, and a McDonald's; consumption of each so commonplace, noticing the shops would feel like a waste of time.
This future may not be so far away.
Do Canadians Want Mushroom Dispensaries?
In 2022, Alberta became the first Canadian province to regulate psilocybin and other psychedelic drugs for therapeutic use. Following this, Quebec became the first province to offer psychedelic therapy and care.
CTV recently covered the growing trend of shroomeries opening up in Canada, asking readers if mushroom dispensaries were the new pot shops. This change in public perception and government action is reminiscent of Canada's path to cannabis legalization.
Psychedelics and dealer shops like Shroomyz now find themselves in the same limbo as cannabis dispensaries were in these early stages. Some Canadians hold a Special Access Program Letter of Authorization (SAP) to buy psilocybin for legal use, but, to make the sale legal, a dispensary must also acquire an SAP.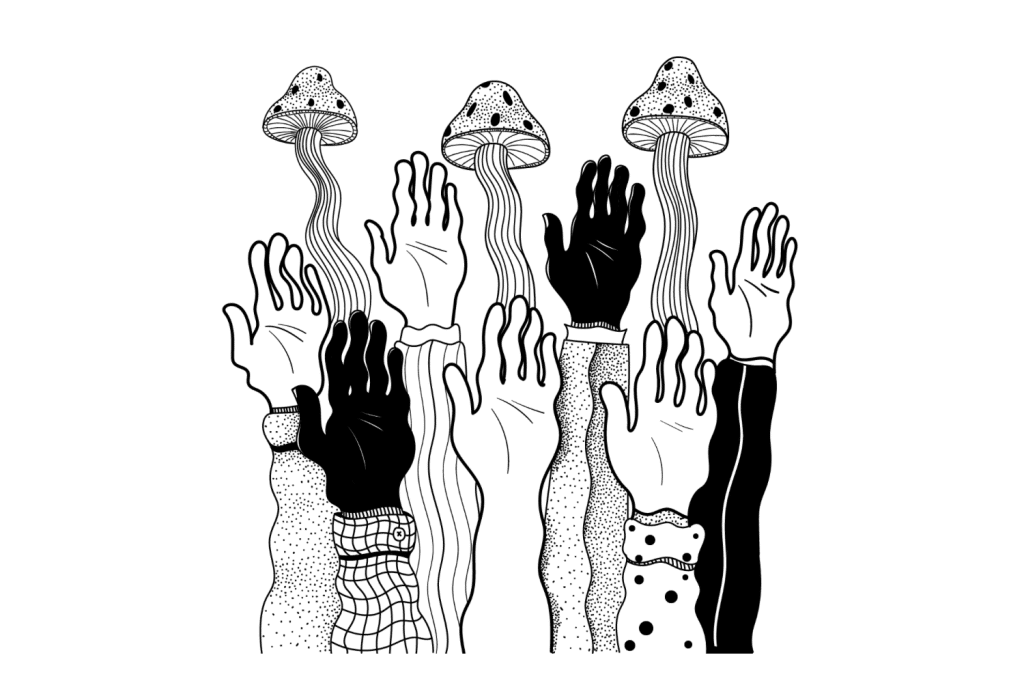 "Once a Special Access Program Letter of Authorization for psilocybin is issued, a Subsection 56(1) Class Exemption allows certain parties (e.g., practitioners, pharmacists practicing at a hospital) to legally conduct activities (e.g., sale, possession, transport, etc.) with psilocybin concerning the Special Access Program authorization," states the official notice on Canada.ca.
Health Canada has granted only 19 SAPs since 2020. Canadians can also get psilocybin legally through clinical trials and Individual Subsection 56 Exemptions, but these aren't easy routes.
Stores like Shroomyz and other dispensaries across Canada are popping up in a grassroots way to help those who need easy access to psilocybin.
What's the Future Look Like for Mushroom Dispensaries?
It's likely magic mushroom dispensaries are seeing big growth in new customers as people experiment with alternative medicine. Having a shop within walking distance can empower people who may have read about the benefits of psychedelics and want to take matters into their own hands.
Not everyone wants to experience mushrooms in a clinical or retreat setting, and they should be able to trip at home if they'd like. Shops like Shroomyz enable curious customers to explore and learn at their own pace.
Jack says they "rarely get[s] one-off customers," finding "most people come back, but not every week necessarily." The staff has concluded that "most people come back once every couple of months."
Will magic mushroom shops soon be as ubiquitous as cannabis dispensaries and cafes? Only time will tell. It's moving in slow motion but appears to be going faster than the cannabis legalization journey.
An analytic model predicted all American states will legalize psychedelics by 2034–2037 [1]. Perhaps Canada will see the green light much sooner.
---
References
Siegel, J. S., Daily, J. E., Perry, D. A., & Nicol, G. E. (2023). Psychedelic Drug Legislative Reform and Legalization in the US. JAMA psychiatry, 80(1), 77-83.