What is Ketamine Therapy?
Ketamine therapy is legal in the United States, and there are a few different ways you can go about it — here's a guide on what to expect.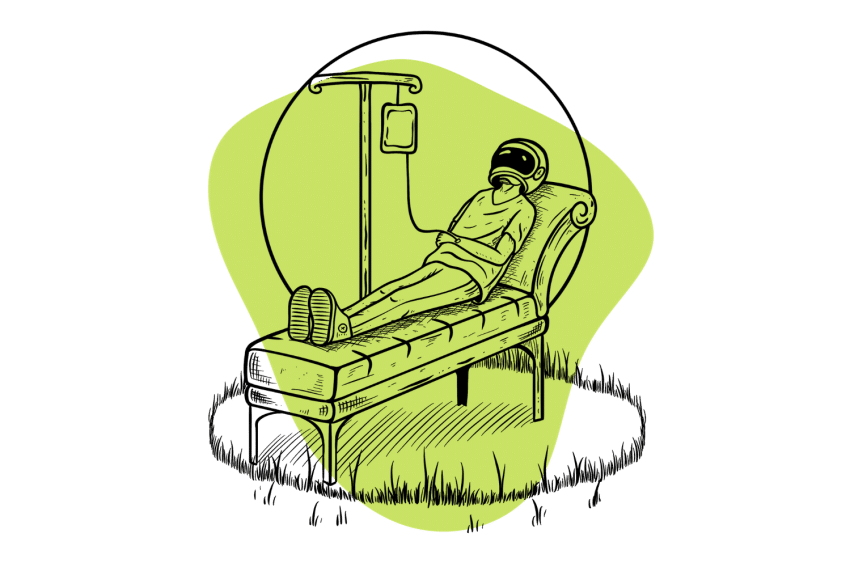 Ketamine therapy has been exponentially growing in popularity as telehealth options have made ketamine therapy cheaper than ever. However, there are a few different forms of ketamine-assisted psychotherapy, and they offer varying degrees of support.
Additionally, ketamine hasn't been show to be as long-lasting as other psychedelics might be for concerns like depression [1]. While it can be remarkably effective in the short term, many have to continue returning to the expensive ketamine sessions periodically.
Still, the ability to go to a clinic in your own neighborhood — or even get ketamine mailed straight to your door — has made it an attractive option for many.
Ketamine Therapy: Is It Legal & How Does It Work?
Ketamine, when used in therapy, is a form of psychedelic-assisted psychotherapy (PAP). It involves taking ketamine in combination with therapeutic guidance.
Some believe the dissociative effects of ketamine may better assist with depression and other symptoms, but its real reason for being so popular is the semi-legality of it.
To date, the FDA has approved the use of ketamine for treatment-resistant depression, but only through Johnson & Johnson's proprietary nasal spray. This option — called "Spravato" — is a proprietary medication containing half of the two "mirror molecules" that form ketamine.
S-ketamine (the half Spravato uses) was likely chosen due to research indicating it is far more potent in its effects [2]. However, some research is beginning to show that R-ketamine (the other half) "may have more potent and longer lasting antidepressant effects…alongside fewer side effects."
Racemic ketamine (what we usually just call "ketamine") is a 50:50 mixture of the two, and they may interact in ways we don't understand. This is important because ketamine clinics may offer name-brand Spravato or racemic ketamine.
How Does Ketamine Therapy Work?
Ketamine therapy may take a few different forms, depending on the form of ketamine you'll receive and the conditions you're taking it for. Some are meant more for hard-to-treat conditions, while others are meant more as a general solution.
These break down into three basic options:
Off-label ketamine-infusion clinics
Spravato prescriptions and maintenance
Mail-order ketamine therapy
Each comes at a different cost and provides its own level of care and attention. Let's look at each of these in more detail:
How Do Off-Label Ketamine Clinics Work?
For most conditions, clinics will recommend a course of 6–8 infusions — either through your veins (intravenous) or into the muscular part of your arm (intramuscular). Ketamine "exert[s] rapid antidepressant properties as early as several hours after administration [3].
Ketamine's fast-acting properties and resistance to tolerance buildup enable patients to fit them into their schedule easily and rapidly. The course of these injections might take place as frequently as every other day in 1–3 hour sessions.
Patients frequently have to return as ketamine's rapid antidepressant action is also shorter [1]. 
One study provided 10 patients with treatment-resistant depression 6 ketamine infusions every other day and found [4]:
9/10 met "response criteria," indicating a successful alleviation of depression after the first infusion
This number remained the same after the final one, indicating it stayed effective the whole time
8/9 of those who met the criteria relapsed by day 45 (averaging 19 days)
So it's likely a single ketamine session won't provide a permanent cure, but neither do most treatments. A large amount of people return to ketamine therapy periodically for another 6-dose session every 2–6 months (or when they feel the need).
How Much Do Ketamine Clinics Cost?
Prices can vary, depending on your area, but are generally in the range of $2,400 to $6,000 (or more) for 6–8 ketamine sessions. Some clinics charge the entire fee upfront, and others do it on a per-dose basis in case you decide it's not working for you.
How Do Sprovato Prescriptions Work
Spravato is only offered by some clinics — usually in a very different way from other ketamine options. While some might require you to take your dose in the clinic, Spravato is often a prescription for patients to add on to their antidepressant medication for treatment-resistant depression.
The nasal spray may call for up to 2 doses per week in combination with the medication a person is already taking. If clinics don't require you to be present for your session, they may ask you to call in virtually or provide an hourly rate you can add on if you choose.
For most patients, the return to the clinic is to discuss the effectiveness of your current medication and determine if you need to adjust it. Many wean down to once a week after their first month or two.
How Much is a Spravato Prescription?
As is the case with any patented medication with high demand, this results in exorbitant pricing — roughly $600–900 per two doses. Spravato is recommended in specific instances in combination with antidepressants and often requires two doses per week — or $2400–3600 per month.
How Do Mail-Order Ketamine Services Work? (Online Ketamine Therapy)
Riding the coattails of telehealth expansion, ketamine company ads have become a common feature on anyone's social media feed. Some even give you an option between a few different ways to take ketamine or provide microdoses thereof for a monthly fee.
Typically, these involve an initial consultation (usually free) to see if you qualify and some preparatory/integration worksheets. Occasionally, services might have a virtual meeting during your dose, but you're frequently left on your own.
→ Learn more about online ketamine therapy
How Expensive Are Mail-Order Ketamine Clinics & What Do They Offer?
Here's a breakdown of some of the ketamine telehealth clinics and their pricing for a basic package:
Name
Price
What's Included
Mindbloom
New clients pay $1,170, and returning clients pay $1,782 for 18 sessions or $675 for 6
A dedicated guide for introductory meetings along with guiding some of the sessions, "unlimited group integration services," and a box containing your doses along with an eye mask, blood pressure monitor, journal, and welcome guide.
Mindbloom also has an app to assist with setting intentions.
Joyous
$129/month for 30 microdoses of ketamine
Joyous checks in periodically via text.
MyKetamineHome / Nue.Life
The introductory package "Nue Reset" is $1,399 for 6 sessions
4 group integration sessions, a month of "telemedicine care," and 2 follow-up visits after.
Better U Care
$596 for 4 sessions and $996 for 8
Clinical appointment to screen for health issues, a 15-minute appointment for preparation, 1 integration session, and a box with an eye mask, blood pressure monitor, and "gratitude cards."
Wondermed
$399 for 4 "low-dose" sessions
Music playlist, clinical consult, and "digital tools and integration support. You'll also receive a starter box with an eye mask, blood pressure monitor, journal, and some ginger capsules to prevent nausea.
Choose Ketamine
$119–$172 per dose with packages ranging from $689–$1,200
Option for 1:1 integration sessions in the premium package, 4–8 sessions available, 2–6 guided sessions, and welcome package similar to the above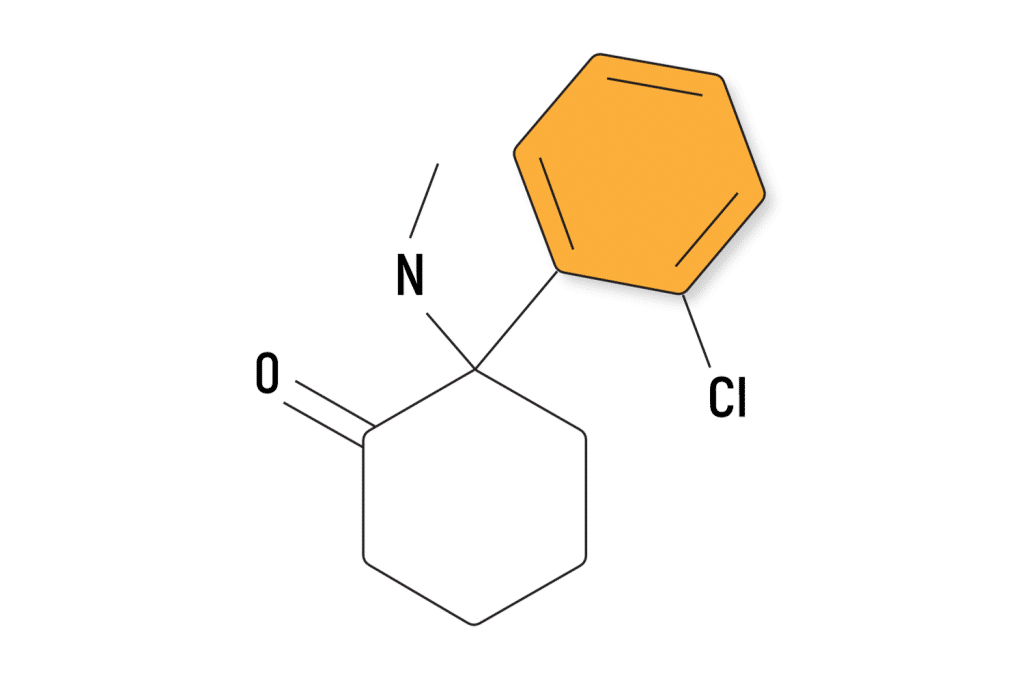 Research on Ketamine Therapy
Ketamine has been around since 1962. Because of how old it is and its broad but powerful uses in treating pain, depression, PTSD, and as an anesthetic, there are thousands of high-quality studies involving this drug. Even with this much research, science is struggling to truly understand just how this impressive medicine works.
Here's a brief rundown on some of the main areas of research concerning ketamine therapy:
1. Ketamine Therapy For Depression
Depression, in its many forms, has gotten a large amount of attention from psychedelic research studies, and ketamine is no exception. Some of the various forms of depression ketamine has shown potential for include:
Post-Traumatic Stress Disorder (PTSD) [5]
Major Depressive Disorder (MDD) [6]
Treatment-Resistant Depression (TRD) [7]
As we've mentioned above, research doesn't support a sustained antidepressant effect, but the onset is rapid.
Additionally, the successes in some of the above studies are mixed at best. To date, the only effect we have ample support for is rapid, short-lasting antidepressant activity.
2. Ketamine Therapy For Suicidal Tendencies
Suicidal thoughts and tendencies are often a symptom of major forms of depression, but they are unique in how they appear. Many who experience suicidal thought patterns find they come on suddenly and in complex ways.
Thus, the short-lived nature of ketamine isn't as important as its rapid onset of antidepressant effects. As one survey put it, "Prediction of the transition from ideas to acts is weak [8]," meaning it's important to treat patients rapidly and reliably.
3. Ketamine Therapy For Pain Management
As an anesthetic, one of the main uses of ketamine is to prevent pain during operations and other procedures. However, some research is indicating it may help manage pain and reduce the need for opiates as well [9].
Another common problem with operations is "postoperative depression" — an onset of depressive symptoms due to high levels of pain or immobility. Ketamine is uniquely positioned to help with this as an antidepressant with muscle-relaxing and dissociative properties [10].
Some studies suggest this may even improve the time it takes to heal.
4. Ketamine Therapy For Addiction
Ketamine might help "prolong abstinence" from other substances through a few mechanisms of action [11]. While the evidence for this isn't conclusive, it would stand to reason that the quick onset of effects from ketamine would help to quell cravings for other substances.
This would make its action different from other psychedelic-assisted psychotherapy for addiction, which typically focus on an inward, therapeutic approach to treating addiction.
References
Walsh, Z., Mollaahmetoglu, O. M., Rootman, J., Golsof, S., Keeler, J., Marsh, B., Nutt, D. J., & Morgan, C. J. A. (2021). Ketamine for the treatment of mental health and substance use disorders: Comprehensive systematic review. BJPsych Open, 8(1), e19. https://doi.org/10.1192/bjo.2021.1061
Jelen, L. A., Young, A. H., & Stone, J. M. (2021). Ketamine: A tale of two enantiomers. Journal of Psychopharmacology (Oxford, England), 35(2), 109–123. https://doi.org/10.1177/0269881120959644
Matveychuk, D., Thomas, R. K., Swainson, J., Khullar, A., MacKay, M.-A., Baker, G. B., & Dursun, S. M. (2020). Ketamine as an antidepressant: Overview of its mechanisms of action and potential predictive biomarkers. Therapeutic Advances in Psychopharmacology, 10, 2045125320916657. https://doi.org/10.1177/2045125320916657
Aan het Rot, M., Collins, K. A., Murrough, J. W., Perez, A. M., Reich, D. L., Charney, D. S., & Mathew, S. J. (2010). Safety and efficacy of repeated-dose intravenous ketamine for treatment-resistant depression. Biological Psychiatry, 67(2), 139–145. https://doi.org/10.1016/j.biopsych.2009.08.038
Li, K. X., & Loshak, H. (2019). Intravenous Ketamine for Adults with Treatment-Resistant Depression or Post-Traumatic Stress Disorder: A Review of Clinical Effectiveness, Cost-Effectiveness and Guidelines. Canadian Agency for Drugs and Technologies in Health. http://www.ncbi.nlm.nih.gov/books/NBK551873/
Johnston, J. N., Henter, I. D., & Zarate, C. A. (2023). The antidepressant actions of ketamine and its enantiomers. Pharmacology & Therapeutics, 246, 108431. https://doi.org/10.1016/j.pharmthera.2023.108431
Serafini, G., Howland, R. H., Rovedi, F., Girardi, P., & Amore, M. (2014). The Role of Ketamine in Treatment-Resistant Depression: A Systematic Review. Current Neuropharmacology, 12(5), 444–461. https://doi.org/10.2174/1570159X12666140619204251
Jollant, F., Colle, R., Nguyen, T. M. L., Corruble, E., Gardier, A. M., Walter, M., Abbar, M., & Wagner, G. (2023). Ketamine and esketamine in suicidal thoughts and behaviors: A systematic review. Therapeutic Advances in Psychopharmacology, 13, 20451253231151330. https://doi.org/10.1177/20451253231151327
Bell, R. F., & Kalso, E. A. (2018). Ketamine for pain management. Pain Reports, 3(5), e674. https://doi.org/10.1097/PR9.0000000000000674
Guo, J., Qiu, D., Gu, H., Wang, X., Hashimoto, K., Zhang, G., & Yang, J. (2023). Efficacy and safety of perioperative application of ketamine on postoperative depression: A meta-analysis of randomized controlled studies. Molecular Psychiatry, 1–11. https://doi.org/10.1038/s41380-023-01945-z
Ivan Ezquerra-Romano, I., Lawn, W., Krupitsky, E., & Morgan, C. J. A. (2018). Ketamine for the treatment of addiction: Evidence and potential mechanisms. Neuropharmacology, 142, 72–82. https://doi.org/10.1016/j.neuropharm.2018.01.017