A Roadmap for Canada's Psychedelic Industry: Toronto vs. Vancouver
Canada's psychedelic renaissance is taking the shape of dozens of magic mushroom dispensaries cropping up across the country, with the biggest growth happening in Toronto and Vancouver. Their different approaches seem to represent a fork in the road for the country's psychedelic future.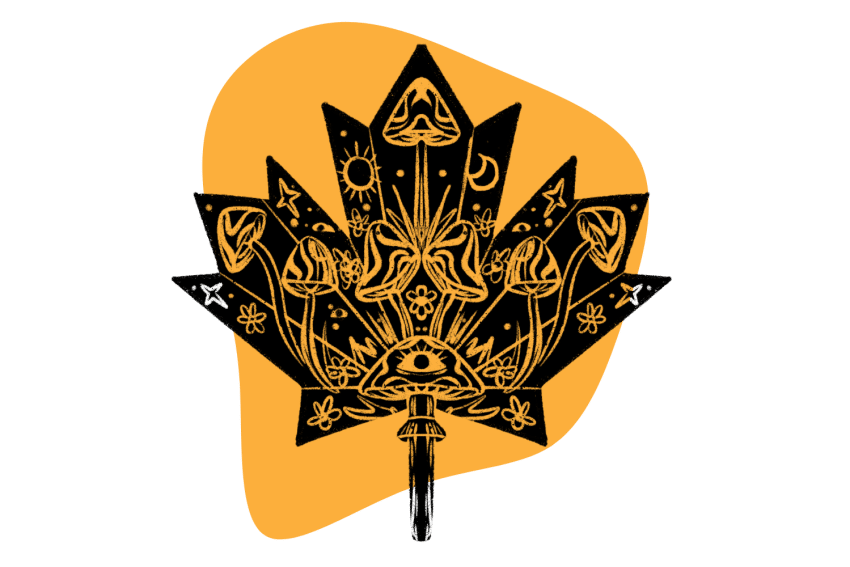 History repeats itself.
In 2017, before Canada legalized cannabis, the country saw a plethora of illegal dispensaries popping up. In Toronto, the most notorious and public ones, like CAFE, were getting raided by police, blocked from opening, and worse. More cautious underground shops — like those who required a referral for purchase — stayed safe.
Eventually, having lost control of the situation, the Canadian government officially announced legalization on October 17, 2018, trying to regain some of it.
As of January 2023, there are over 3,700 legal marijuana dispensaries open in Canada — averaging around one per every 10,000 residents. Now, the same rebellious action is happening again — only the dispensaries aren't selling weed, they're selling magic mushrooms.
The Psychedelic Renaissance in Canada
The "psychedelic renaissance," starting in the mid-aughts, reached full force in recent years. A handful of American cities like Seattle, Oakland, and Ann Arbor have passed psychedelic decriminalization legislation. Oregon has already become the first US state to legalize psilocybin for therapeutic use.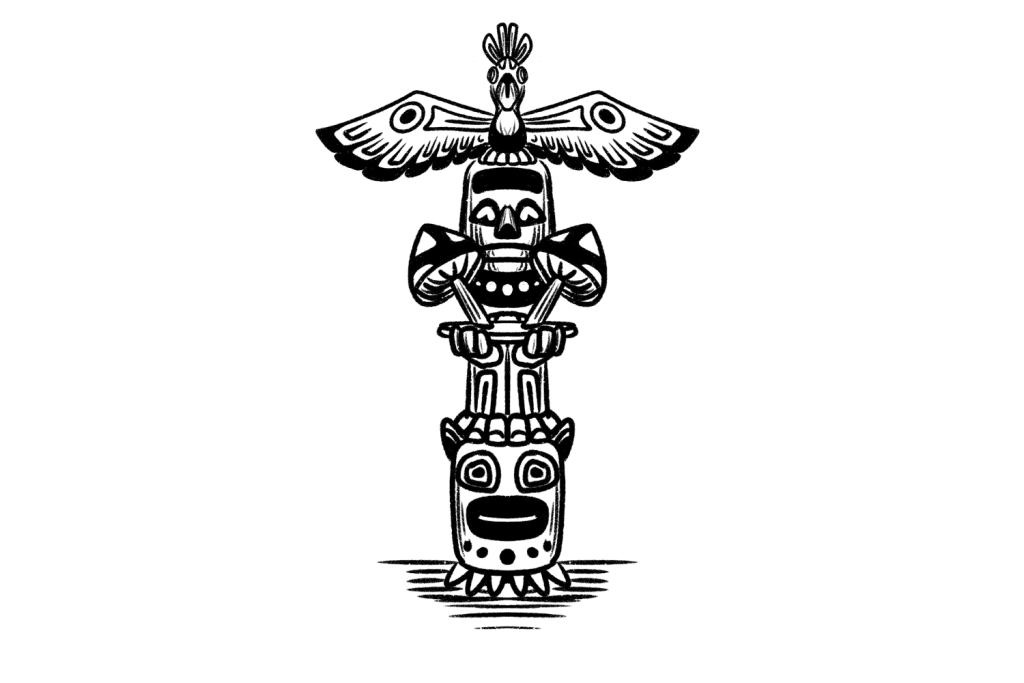 Celebrities are coming out to share their psychedelic experiences, and stigmas around the use of drugs are beginning to melt away. Now, parts of Canada seem to be moving toward a less-restrictive legislative model on psychedelics as well.
An Introduction to Rain City (Vancouver)
Vancouver is an anomaly in a country already known for looser drug laws than its downstairs neighbor. Its population is just under a million, and its stunning backdrop of mountains and the Pacific Ocean gives it a relaxed, earthy vibe. Canadians know it as a home to hikers, bikers, and yoga moms — a health-conscious, liberal city on the water.
In January 2023, the province of British Columbia began a new experiment, gaining an exemption from the Controlled Drugs and Substances Act from January 31, 2023, until January 31, 2026. In response to growing numbers of overdoses, the city decided drug users aren't criminals and drug reform can save lives.
Interestingly, this new exemption doesn't extend to psychedelic drugs — theoretically, possession of two grams of heroin won't get you arrested, but possession of two grams of magic mushrooms can.
Laws around mushrooms and other psychedelics are rarely enforced in BC. At least eight shops operate openly in the city without fear of police action.
In a statement to CBC, Vancouver Constable Tania Visintin said, "[We] continue to target violent and organized criminals who produce and traffic harmful opioids, which fuel gang violence and contribute to the ongoing health crisis of illicit drug deaths." Vancouver PD is aware, they just don't really care.
The city has bigger issues to deal with than a few shops selling magic mushrooms, as does every other city on the planet.
Vancouver's Indie Shroom Shops
At the forefront of the legalization battle and the right to sell products is cannabis and psychedelic advocate Dana Larsen. His Medicinal Mushroom Dispensary in Vancouver sells a variety of magic mushroom strains alongside dimethyltryptamine (DMT) pens, Lophophora williamsii (peyote), Mitragyna speciosa (kratom), and more.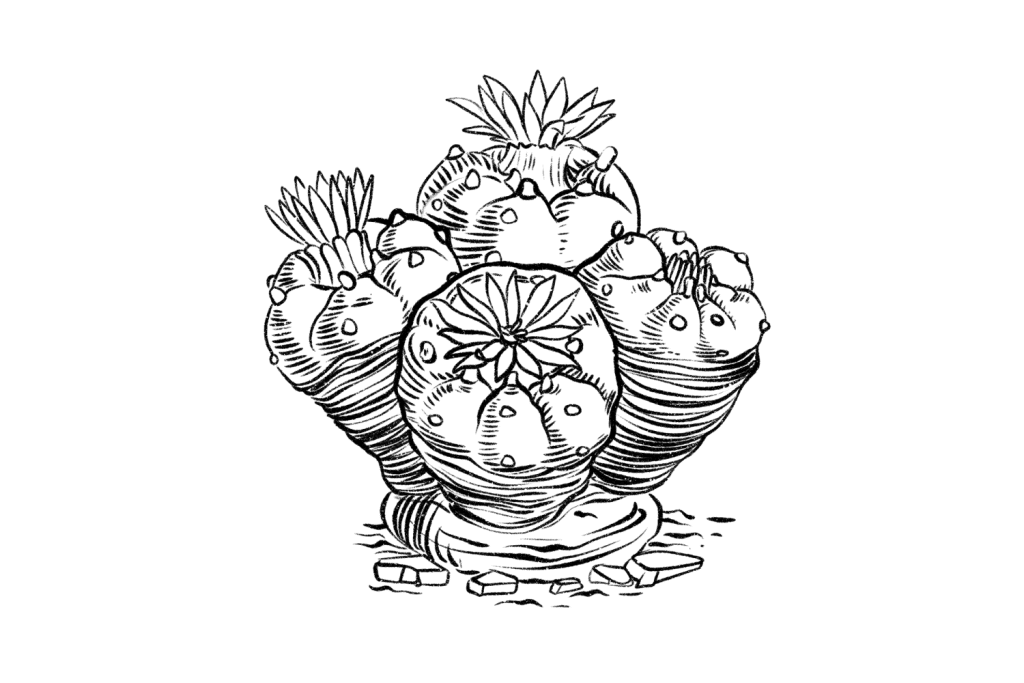 Larsen doesn't have a permit through Health Canada's Special Access Program — one of the few ways Canadians can legally access psilocybin or other unauthorized drugs in Canada. Permit or not, he gets plenty of customers looking for therapeutic or medical use.
Though arguably the most public figure in the psychedelic dispensary space, Larsen is far from the only one: Vancouver's eight magic mushroom dispensaries are all independently owned and operated with distinct personalities and unique products.
Zoomers, for example, offers a mushroom soda drink rarely found at the other shops. Their claim to fame is hosting over 30 different strains of mushrooms, treating psychedelics like a selection of craft beer.
"My impression is that the feds don't care that much yet, and most police forces are going to have a lot of discretion in whether they choose to spend their resources shutting these things down or not," says Marc Goldgrub, a lawyer at Green Economy Law and founder of Psychedeliclaw.ca, specializing in providing legal work for green businesses and nonprofits  —  as well as parties working in the health and psychedelic sectors (or dealing with housing-related issues).
A Brief Overview of the 6ix (Toronto)
Unlike BC, Ontario doesn't have loose drug laws or temporary decriminalization. Ultimately, criminal law in Canada is at the federal level, which means psilocybin dispensaries selling it are technically selling a Schedule III drug with steep potential penalties.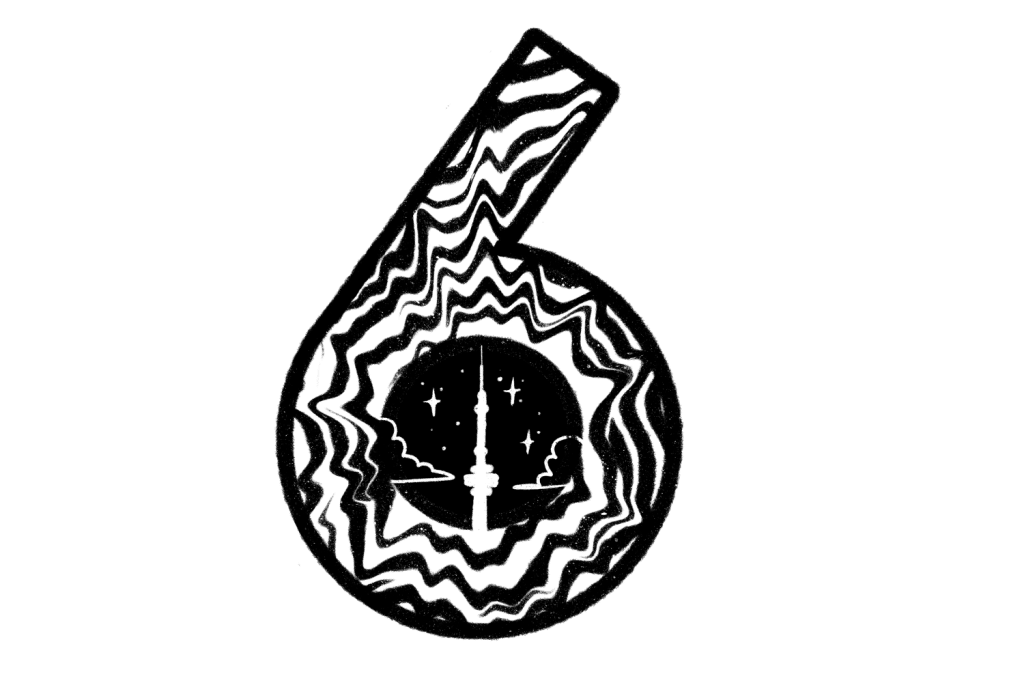 The city is a cultural hub — home to a large population of artists, creatives, and musicians. It's also one of the most expensive cities in North America, with an average median income of $84,000.
The city claims to work hard to promote its locals and small businesses and is also one of the most diverse in the world.
Though not as rebellious or hippie-centric as Vancouver, Toronto has its fair share of activism. During the cannabis shop boom in 2016 and 2017, Toronto was a hub for illegal marijuana dispensaries. Despite seemingly never-ending police raids, they kept opening up and coming back, time and time again.
Toronto's Chain Dispensaries
Since the fall of 2022, Toronto has seen a rapid increase in mushroom dispensaries in the city. Shroomyz was the first to open up in September 2022 on high-traffic Queen Street West, only to have the police visit and raid the shop in November.
They re-opened the next day and their second location would follow in December.
(Read also: our deep dive into the magic mushroom dispensary experience in which we interview a staff member at Shroomyz.)
Now, there's a new magic mushroom shop chain in town garnering a lot of attention as they expand across the province: Fun Guyz. Currently operating through five locations in Ontario — three of which are in Toronto — they're only looking to expand.
Outside of Toronto, one independent shop operates in Ottawa: The Golden Teacher sells their own in-house brand of psilocybin mushrooms and adjacent goods.
How Vancouver & Toronto's Psychedelic Environment Differ
Ontario's dispensaries largely consist of chain shops, while BC's stores remain fairly independent. Why is this, and are these the two potential pathways of Canada's psychedelic future?
Larsen offers his theory: "Toronto is a much bigger city," he says, "with a much bigger customer base." In theory, this could lead to bigger profits, making the concept of franchising more appealing and plausible.
Goldgrub explains, "[t]here's a cultural difference between BC and Ontario which accounts for some degree of difference in the police and public response to these shops, but legally, there's no material difference at play."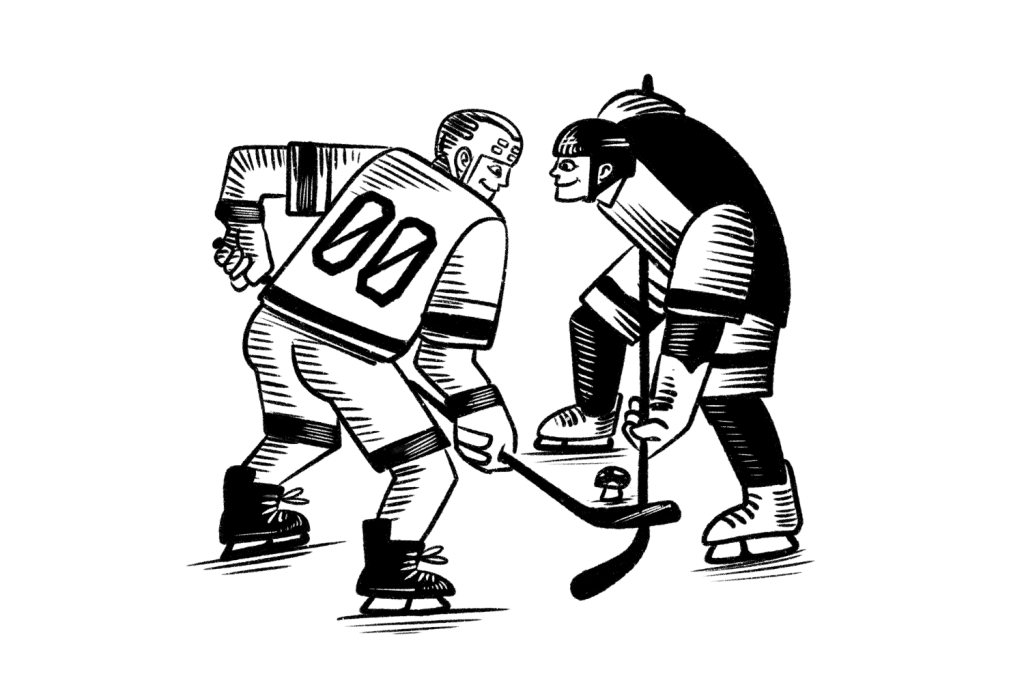 Perhaps this cultural difference is all it takes — according to a staff member at Zoomers, police do enter the store on occasion, but only ever ask if everything is all right and leave.
Vancouver is a port city with a history of activism. Toronto, on the other hand, is a central city surrounded by suburbs and conservative governments. The downtown core might accept a psilocybin store — even in a family-friendly neighborhood like the Danforth in Toronto.
High-Yield Profits Fueling Expansion
Expansion by these chains outside of Toronto to smaller towns like Bradford and Hamilton has led to community disdain, complaints, and shutdowns.
In Bradford, located about an hour north of Toronto, Fun Guyz attempted to open up a location, only to be met with a nearly immediate police raid. This hasn't stopped them from offering curbside pickup and delivery throughout the region.
"Shops and chains like Fun Guyz [and] Shroomyz are operating illegally," says Goldgrub."They're just daring the police to shut them down. In Vancouver police are ignoring them, in Toronto police are raiding but for some reason not shutting them down, and in Hamilton, they don't last two days."
Larsen says that the police only come to talk to him when they need access to video footage taken outside the store for unrelated activity.
Despite Ontario's harshness with the laws, multiple mushroom chains across Toronto and the rest of the province are opening. Fun Guyz seems financially stable enough to have multiple employees across locations with money left over to open new shops and keep a lawyer on retainer.
"People feel more confident they're gonna survive, and that's why they're opening chains," says Larsen, who just opened the second location of his Medicinal Mushroom Dispensary last month. According to him, many of the movers in the burgeoning psychedelic space are former old heads from the cannabis world, who already know what legal barriers to navigate and how.
The Future of Psychedelic Dispensaries in Canada
Magic mushroom shops are opening in Canada faster than the cannabis boom of years past. Dana Larsen predicts "within two years," we'll see "more than 100 shops" in the country.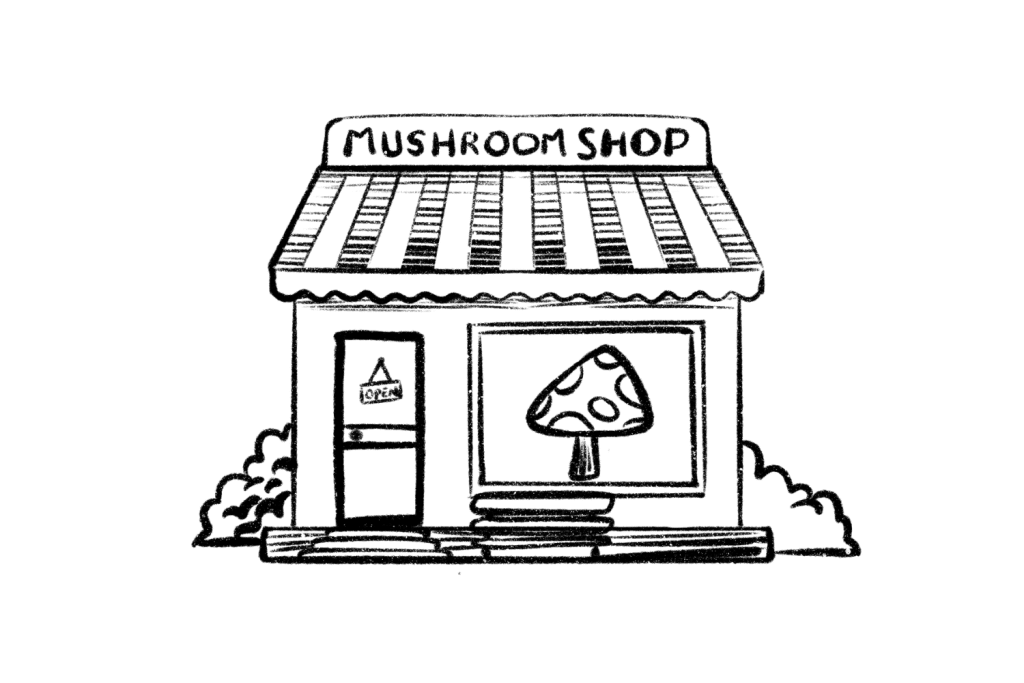 "Any growth we'll see in psilocybin dispensaries is likely to be entirely illegal," says Marc Goldgrub. Perhaps some of this growth will happen through chains, especially across Ontario and Western Canada.
Fun Guyz intends to expand even further, hoping to open up at least 10 new stores.
"I do expect more illegal shops until there's a serious legal crackdown, which could come at any time. And if/when we get another Conservative federal government, I'd expect the legal waters to get choppy real fast," says Goldgrub.
"I don't think we'll see any change in the federal level until the next election cycle," Larsen says.
It looks like the illegal shops are to be the ones pushing things forward, acting in activism and protest: "That in itself," Larsen says, "is a revolutionary act of civil disobedience that I applaud."